It somehow seems hard to find concrete information on the web regarding how to make a Thailand visa run to Vientiane, Laos.  I have been on two visa runs to Vientiane recently and have taken notes to show the costs and how it really is not a very difficult process.  The first time I went, I obtained a 2 month tourist visa.  The second time I got a job teaching English in Bangkok and went to Vientiane to apply for a non-immigrant B visa so that my job could then apply for my Thai work permit.  Both times I was able to do some Vientiane style relaxing.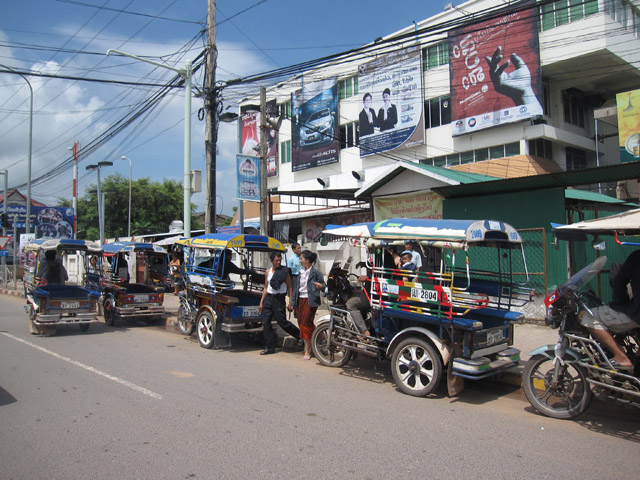 I have had positive experiences both times and things have run smoothly.  There are a number of ways to get to Laos but this is what I chose to do.
1.  Bus from Khao San Road Bangkok, to Vientiane, Laos
Bus leaves daily at a time between 7 pm and 8 pm (no one knows for sure when so be early).  I arrived at Khao San road Bangkok around 5pm to purchase the ticket and then hung out till it was time to leave.  Any of the tour agencies will sell the ticket and it will cost between 800 and 900 Baht which will cover everything all the way to the center of Vientiane, Laos.
2.  At the Laos border you need to apply for a visa
To get a Laos visa you need:
Filled out application form which the bus will give you.
A passport photo for the application.
Payment (For US citizens it was $36), Try to pay with USD if you can because in Baht they overcharge.
3.  Across the Border
When you get across the border there will be a bus waiting for you to carry you to Vientiane center about 30 minutes from the border.  This is all included in the bus fee from Bangkok.  You should arrive in Vientiane at about 9-10 am the next day.
4.  Tuktuk in Vientiane to the Thai Embassy
When the bus drops you off, immediately hop onto a jumbo tuktuk and tell the driver to take you to the Thailand Embassy.  Should cost anywhere from 100-200 baht round trip.  The embassy stops accepting visa inquiries at 12 pm so don't lallygag.
5. At the Thai Embassy
At the Thai embassy before you do anything pick up a number.  Then grab the form and fill out all the information asked for.  Along with the form you will need:
Get exclusive updates
Enter your email and I'll send you the best travel food content.
For the tourist visa:
Application (from the embassy)
Passport
2 passport photos
Copy of passport
Payment if needed
For the non-immigrant B visa for my English teaching job in Bangkok, I needed:
Application (from the embassy)
Passport
2 passport photos
copy of passport
payment of 2000 Thai baht
copy of University degree
copy of TESOL certificate (bring original)
packet of official papers from employer
6.  Place to Spend the Night
Ride back to the Vientiane fountain where there are loads of hostels and hotels to stay at.  I stayed at the Saysouly guest house which runs 300 baht per night for a double room.  The guest house is quite adequate but there are loads of other options as well if you have a look around.
7.  Free Time
After taking care of business in the morning, the main thing to do in Vientiane is relax and eat.  At sunset be sure to check out one of the main joys of Vientiane; having a meal of grilled fish and a beerlao while watching the sunset over the Mekong River.  There are loads of eateries set up on the banks of the river.  I would also highly recommend drowning yourself in all 16 inches of a Laos style sandwich, known as the Laos Insanewich.
8.  Passport Pickup
The next day you need to return from 1pm to 3pm in the afternoon to pick up your passport with the visa included.  Take a look at your passport and visa to make sure it is correct.
9.  Return Bus to Bangkok
Again, any of the tour agencies in Vientiane will sell you a tourist VIP bus all the way back to Bangkok, to either Mochit Station or Khao San Road.  The price should cost 700 to 800 Baht.  It will take you accross the border to Thailand, hassle free, and you will arrive in Bangkok anywhere from 5 am to 6 am the next day.
Here is what I spent in 2 days and 3 nights:
VIP Bus (2 ways)- 1600
Laos Visa $36 about 1200 (note: if you pay Thai baht it will be more like 1400)
Thai non-immigrant B visa- 2000
1 night room- 300/2- 150
Food and drinks- 500
Total price to get a Thai Non-Immigrant B Visa in Vientiane Laos- 5450 Baht
Hope this is a helpful guide to making a visa run from Bangkok to Vientiane.
If you do have more time to spend in Laos it is a marvelous treat to maximize relaxation in Vientiane, spend time in Luang Prabang or boat the Mekong River for a couple days.
For more information check out the official website of the Thai Embassy in Vientiane, Laos.
-Migration Mark
Related:
Get exclusive updates
Enter your email and I'll send you the best travel food content.