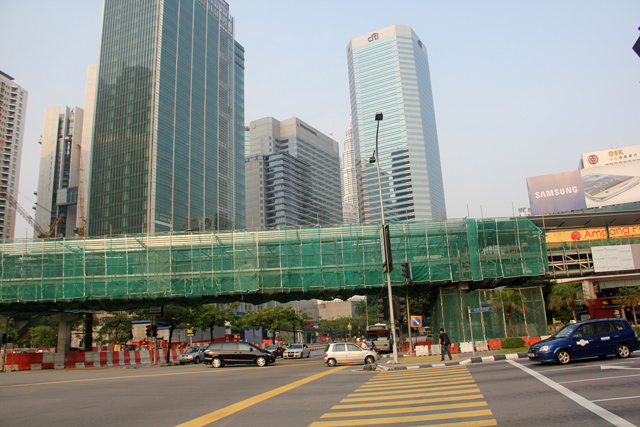 Thinking about getting your Thai tourist visa in Kuala Lumpur, Malaysia? The Thai embassy in Kuala Lumpur is located just outside the KLCC city center.
It's a fairly hassle free process, but if you already have many Thai visas in your passport it may not be as easy as other places (like Seoul). I had just 1 other Thai visa in my passport when I applied in Kuala Lumpur and the employee really looked though my passport at every page to see if I had more visas. If you have more than a few Thai visas in your passport, they may ask for a copy of your transportation ticket, both in and out of Thailand (this also may depend on the employee at the time).
If you just have 1 or 2 Thai visas in your passport, or are applying for a Thai visa for the first time, getting a Thai visa in Kuala Lumpur is easy and straightforward.
Similar to getting a Thai visa in Yangon, in Kuala Lumpur you are only permitted to apply for a single (1) entry tourist visa.
Note: These are just my observations, nothing official.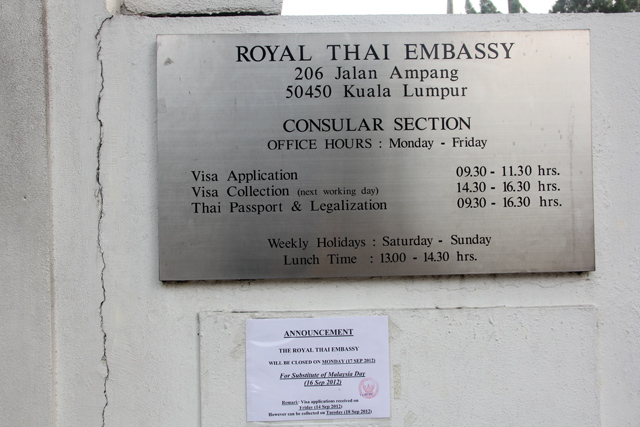 Here's what you will need
Passport
1 photocopy of your passport signed
1 filled in visa application form (available at Thai embassy)
1 passport photo 3.5 x 4.5 cm (I had heard you needed 2 – 3 photos, but when I got my Thai visa, they only took 1, so have 2 – 3 photos with you just in case)
110 RM (you must pay in Malaysian currency, and you must have EXACT amount – they don't give change)
Note: At the Thai embassy in Kuala Lumpur there is no place to get last minute photo copies or passport photos, come prepared!
Procedure
The embassy officially opens at 9:30 am, but they open the outside gate at 9 am and you can go in and grab yourself a visa application form prior to the actual embassy opening.
Get exclusive updates
Enter your email and I'll send you the best travel food content.
I arrived at about 8:30 am and there was already a small line of about 10 people in front of me. They opened the gates at 9 am, I got my visa application and then waited in line while filling it out until 9:30 am.
When they open the doors, you get a number and then wait until your number is called to present all your documents and money.
I waited for about 15 minutes minutes or so and I was out of the embassy before 10 am. However, there was a quite a long line behind me, I'd imagine others had to wait around 30 minutes to an hour or even longer.
After applying, you'll be handed a little receipt which you must present the next day to pick up your passport.
Passport Pick Up
While getting a Thai visa in Colombo takes 4 full business days, in Kuala Lumpur you conveniently pick up your passport the next business day!
Pick up time is from 2:30 pm – 4:30 pm each afternoon. It's very easy, just show up, show your recipet and you'll be give your passport and hopefully your new Thai visa.
I arrived at 2:45 pm to avoid the initial rush and didn't have to wait at all.
How to get to the Thai Embassy in Kuala Lumpur
Take the LRT to Ampang Park Station, Exit to your right hand side and go up the escalator. Make an immediate u-turn and walk past the nice McDonalads. Walk straight, pass through the intersection and keep walking straight probably for about 1 kilometer. You'll pass both the France and Spain Embassy and just after the VW dealership is the Thai Embassy on your left had side.
Alternatively you can jump in a taxi from wherever you are in the city.
Here's a map:

View Migrationology World Map in a larger map
Get exclusive updates
Enter your email and I'll send you the best travel food content.