I've often thought that fried chicken just might be the most universally loved food in the world.
From Africa, to Asia, to the Americas, chicken is deep fried until golden brown, served with a variety of side dishes, and the bones (and your fingers) are licked clean.
When I mentioned I was going to be taking a trip to Saigon (Ho Chi Minh City), one of the recommendations, I received was a restaurant called Cơm Gà Xối Mỡ Su Su.
(By the way, huge thank you to all of you who recommended this spot)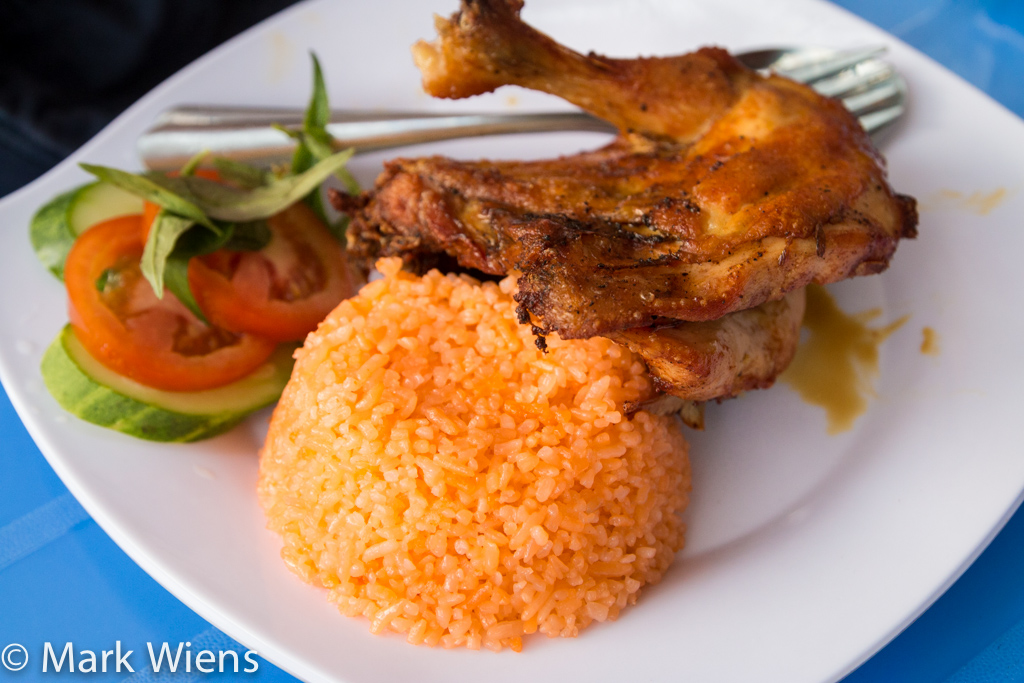 One of the days when I went on a Saigon street food adventure, and after just having a delicious Vietnamese breakfast, I made it a point to stop by this fried chicken restaurant.
I easily recognized Cơm Gà Xối Mỡ Su Su, not by the sign (which was underneath me when I was walking along the sidewalk), but by their signature orange plastic chairs, paired with tables of the shiny stainless steel variety.
As soon as I arrived, the owner quickly greeted me, and we chose the only empty table – prime seats right at the base of the kitchen.
The owner was right in the process of cooking, and when we arrived the sauce was not quite finished.
So the owner told me to hold on a few minutes while he finished making up a HUGE batch of sauce in a modified commercial mixing machine.
I'm not sure what all was in the sauce, but the steam pouring out of the pot bathed me in a bath of garlic and onions, and I watched, to the owners delight, as he dumped in a couple bottles of soy sauce, oyster sauce, perhaps hoisin sauce, and probably a few extra secret seasoning ingredients.
The owner of Cơm Gà Xối Mỡ Su Su was an absolute character, and an incredibly friendly and nice man.
When he saw me taking photos, and a video, he was extremely jolly, and wanted to fully explain to me, in as much broken English as he could, about his commercial street food cooking inventions.
Waterfall fried chicken
The most amazing part of eating at Cơm Gà Xối Mỡ Su Su is the waterfall deep frying machine that the owner informed me he created himself.
This one-of-a-kind deep fryer literally rained boiling hot oil over a piece of chicken, making the chicken golden and crispy within a few minutes.
Get exclusive updates
Enter your email and I'll send you the best travel food content.
The chicken was pre-cooked, probably about 90%, maybe just in an oven, and then for the final crispy-fying process, as soon as he would get an order, he'd grab his lengthy pair of tongs, and toss in a piece of chicken, and let it sizzle on the pouring fountain of hot oil.
The oil was definitely not the cleanest – and I'm sure it could have done with an oil change – but as a lover of street food (one who travels for unique food experiences), this waterfall, raining deep frying machine, had me totally enthralled.
Along with the genius creation, the owner was such an incredibly jolly man, and he couldn't have been more happy that I was so intrigued with his commercially modified hand-made street food cooking devices.
He's literally a street food scientist.
The rice
Along with the raining oil fried chicken machine, the owner was extremely excited to demonstrate to me the uniqueness of his stir frying machine too.
When I had arrived, he was making the sauce, the propeller on the mixer evenly stirring the garlic and onion paste effortlessly.
After the sauce was done, and the pan was washed out, he began to fry up some rice which is served with plates of fried chicken.
He sort of stir fried and let the propeller spin at the same time, stir frying that rice in a whirl of motion – again it was pretty cool – but not quite as cool as the raining fried chicken machine.
What to order
When you arrive, you'll be given two different choices, the leg or the wing.
I decided to go for the leg, which came as a full plate, a chicken leg and thigh attached, with a scoop of orange fried rice, a garnish of cucumbers and tomatoes, and a little side dish of his famous sauce.
I'm not sure of all the ingredients that were added to the fried rice, but it wasn't overly strong, perhaps just a bit of garlic and a little oil to make it slightly greasy.
As for the color, I'm not totally sure what that was from either – anyone know?
Like I already mentioned a little bit above, the sauce at Cơm Gà Xối Mỡ Su Su is one of the reasons why people love the fried chicken so much.
It was one of those sauces that included a little dab of this and a little dab of that, the owner taste testing along the way until it tasted perfect to him. These are the best types of sauces, you know the owner has a passion for what he's doing and if it's up to his taste buds, you know it's going to be good.
The sauce was like sweet sticky garlicky barbecue sauce, with a hint of a teriyaki flavor, and a aftertaste of hoisin. I could have used some chili heat in the sauce, but other than that, it was wonderful, especially with the crispy fried chicken.
The fried chicken, which had just been anointed in hot raining oil, was golden brown, crispy on the outside and moist on the inside.
It was without doubt a bit on the oily side, but it was definitely worth every bite, especially when combined with the sauce and rice.
Due to the heavy oil content and the re-used oil, I probably shouldn't have gone for a second piece of chicken, but I was so thrilled with the friendliness of the owner and his home-made oil raining machine, that I couldn't resist.
For my next piece of fried chicken, I decided to go with the wing this time.
I was going to take a few more photos, but he decided to invite me to test out the machine for myself, and he handed me the long tongs.
I have to admit, it felt pretty good to take a piece of chicken, stick under the waterfall of hot brown oil, and watch it slowly turn from yellow white to golden brown.
After eating both a fried chicken leg and a fried chicken wing (with breast included), I think I came to the conclusion that the wing was best at Cơm Gà Xối Mỡ Su Su.
But then again it depends on your preference of light or dark meat.
Drinks
When you eat at Cơm Gà Xối Mỡ Su Su you'll notice that most people drink either a green cup of something, or a yellow milky bottle of something else.
The green drink is Asiatic pennywort juice, and the yellow milky bottle is a puree of sweet corn milk.
They are not actually sold from Cơm Gà Xối Mỡ Su Su, but rather from the shop next store, and the owner there will come by every so often to take orders from the fried chicken customers.
The sweet corn milk was actually quite good, a thick creamy corn flavored milk-shake.
Watch the video of this meal now…
Here's the full video of this fried chicken meal, make sure you click play, so you can see that genius machine in action!
(If you can't see the video, watch it here: http://youtu.be/8szUeopBjyw)
Conclusion
Cơm Gà Xối Mỡ Su Su is a wonderfully unique street food restaurant in Saigon (Ho Chi Minh City), that serves a combination plate of fried chicken and rice.
Despite the fried chicken being a little on the greasy side, and the oil being a little on the dark side, the fried chicken was pretty good, and the garlicky dark soy sauce dipping sauce went extremely well with the crispy chicken.
But by far my favorite part about eating at Cơm Gà Xối Mỡ Su Su was the extremely friendly owner of the restaurant, and the unique home-made, commercially modified, street food cooking inventions that he uses to power his street food kitchen.
Have you ever seen a waterfall fried chicken machine!?
Cơm Gà Xối Mỡ Su Su
Address: 55 Tú Xương, P. 7, Quận 3, Ho Chi Minh City, Vietnam
Open hours: I'm not sure exactly, but for sure they are open for lunch from probably 11 am – 3 pm
Prices: 40,000 VND for a full chicken and rice plate, 33,000 VND for only chicken
How to get there: From the hotel I was staying at, it was actually just a 10 minute walk. It's about about a 15 minute walk from Tao Dan Park in Saigon.
To see the location on the map, click on "Cơm Gà Xối Mỡ Su Su" and it should highlight the pin on the map.
Get exclusive updates
Enter your email and I'll send you the best travel food content.