After living in Bangkok more or less for the last 3.5 years, I'm always excited when I discover a market I've never been to before.
Located just down the road from Ratchawat Market, one of my favorite Bangkok street food areas, is yet another old-school Thai market that's home to some outstanding restaurants and street snacks.
Tucked away in the quiet green district of Dusit, not far from the Bangkok Zoo and a few Royal Bangkok attractions, is Sriyan Market (ตลาดศรีย่าน).
Similar to the ancient Nang Loeng Market, Sriyan is old, rickety, layered with interesting sights, and packed with brilliant food.
Aside from the loud buses, motorbikes, and thundering tuk tuks, the market feels like a throwback in time – a place with just slightly less pollution and noise than the rest of the city.
Just a fifteen minute bus ride from the boisterous Victory Monument roundabout,  one never would have guessed that such a quiet haven exists.
Vendors selling everything from ancient Thai snacks to modern hot dogs and sai krok sausages set up along Nakhon Chai Si, the main road in and out of the area.
Khao Kriap Wow (ข้าวเกรียบว่าว) is a snack that dates back to the ancient Kingdom of Lanna in Thai history.
Get exclusive updates
Enter your email and I'll send you the best travel food content.
A combination of sticky rice flour, eggs, palm sugar, and coconut cream are formed into paper thin pancakes before being tossed back and forth over hot coals using bamboo sticks. The pancake dehydrates quickly, leaving a cracker like wafer that tastes quite similar to crunchy meringue.
It's actually not my favorite snack in the world, but the preparation process is pretty cool.
Things are Sriyan Market (ตลาดศรีย่าน) seem to move just a little slower than everywhere else in Bangkok.
Though it's a few blocks from the market and housed in a rather modern rennovated building instead of an old shophouse Chinese style building, eating at Ran Gaeng Pa Sriyan (ร้านแกงป่า ศรีย่าน) is an absolute must when you visit Sriyan Market (ตลาดศรีย่าน).
The restaurant is particularly famous for its northern Thai jungle curry (gaeng pa แกงป่า), a spicy medley of bamboo shoots, eggplant, and various other vegetables and herbs.
Though traditionally made with wild boar, we ordered the frog variation, and it made my entire body rejoice with every bite.
But the dish that made me jump up and down for joy the most was this plate of minced quail stir fried with a handful of chilies, krachai (similar to ginger), and herbs (nok sab pad kee mao นกสับผัดขี้เมา).
Both the meat and bones from the quail were ground, giving the minced meat a crunchy texture. It tasted quite similar to hamburger, but flavored intensely well.
Another well known restaurant just outside the market is Jiew Look Shin Pla Yoawarat (จิวลูกชิ้นปลาเยาวราช).
They're famous mainly because they serve a few unique Thai dishes you can't get anywhere else but there.
One of the dishes we had was something known as Khao Pra Ram Lum Song (ข้าวพระรามลงสรง), a plate of rice topped with boiled pork and suffocated in a thick layer of peanut sauce. It was just like satay over rice, and pretty good!
After a full repertoire of restaurant hopping, there's no better way to polish things off than by stopping by the mom and pop Ice-a-Cream-Sriyan (ไอศกรีมศรีย่าน).
You can kiss vanilla good bye.
Because their durian ice cream topped with sweet sticky rice (ไอศกรีมข้าวเหนียวทุเรียน) is unbelievably delicious.
During the ice cream preparation they must use only the purest and most pungent of all durians. The flavor was impressively beautiful, so good in fact that after finishing my first bowl, I had zero choice but to order an immediate second.
It's the best durian ice cream in Bangkok!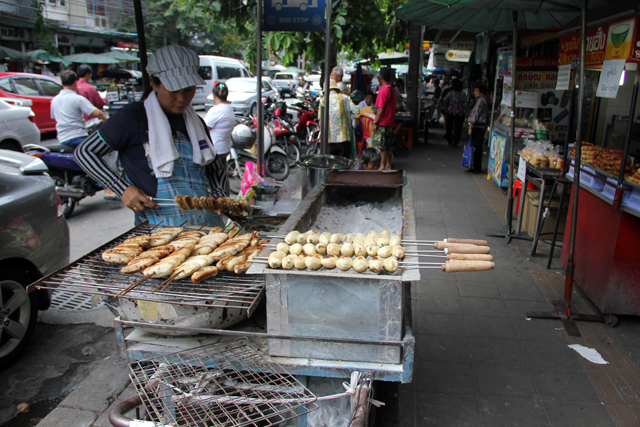 And that wraps up the street tour of Bangkok's Sriyan Market (ตลาดศรีย่าน). It's a perfect place for a meal, a stroll, another meal, another stroll, and finally a few helpings of lucious durian ice cream!
Unfortunately Sriyan Market (ตลาดศรีย่าน) is not connected to any Bangkok mass tansit stations. The easiest way to get there is to either take a taxi all the way there or to take the BTS Skytrain to Victory Monument station and then hop on bus #14 directly to the market.

View Migrationology World Map in a larger map
Get exclusive updates
Enter your email and I'll send you the best travel food content.