Before going to India, I considered yogurt to be a decent sweet fruity snack that went well with breakfast.
I loved it. But it wasn't exactly something that made me lick my lips with anticipation, like a curry or a spicy stir fry.
Yogurt was yogurt.
Even in my initial exploration of the Kolkata street food scene I didn't come across much yogurt, other than that epic mango lassi.
But when I arrived in North India, specifically Varanasi, and started to explore the diversity of Indian street food chaats, that's when I gained a new appreciation for something known as "yogurt."
When I got to Delhi, I was already a huge fan of chaats, and especially those ones where yogurt was a main ingredient.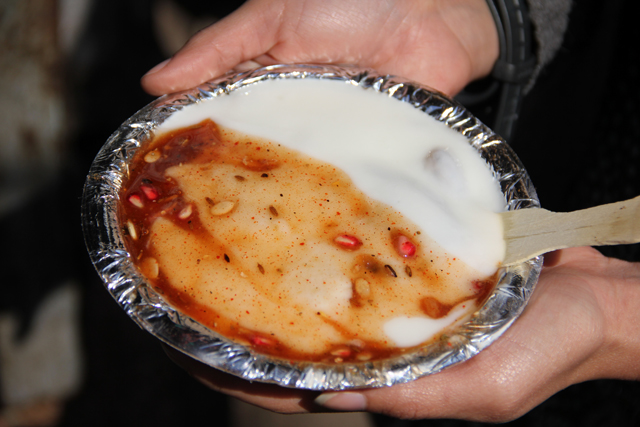 You don't just get a little plastic tub of blueberry yogurt in India, it normally comes plain, rich, and pure, and it's then used in all sorts of Indian dishes and snacks, especially chaats.
Get exclusive updates
Enter your email and I'll send you the best travel food content.
One of the best things to do in Delhi is explore the hectic streets of Old Delhi's Chandni Chowk.
Part of the reward is getting to taste all the incredible street food snacks at places like Natraj Dahi Bhalla Wala, a long standing local favorite for something known as dahi bhalla (also commonly known as a dahi vada).
What is Dahi Bhalla (Dahi Vada)?
A vada is deep fried piece of dough, you can sort of imagine it as a donut that's not sweet and is lightly spiced.
The vadas are then soaked in water and combined with a number spices like garam masala, cumin, pepper, and chili flakes. The vadas form the base of a dahi bhalla.
Then comes the yogurt, a generous scoop of full fat creamy goodness.
On top of the yogurt was a dressing that tasted to me like sweet and sour tamarind juice combined with black pepper, just the right amount of chili, and finally a few pomegranate seeds to make things pretty.
It was outstanding!
Like pani puri, which is an explosion of perfect flavors combined in a single mouthful, dahi bhalla is another example of pure culinary harmony.
The chili was spicy but the yogurt countered the spice, the soft vadas complemented the other ingredients, and the entire combination was something truly marvelous.
I would definitely call it yogurt on the next level!
Natraj Dahi Bhalla Wala
Dahi bhalla (davi vada) gives yogurt a spicy and extremely refreshing twist, and it's a dish I absolutely loved (but not quite as much as kulle chaat).
Price: 40 INR ($0.73).
Open hours: 11 am – 11 pm daily
Address: 1396, Main Road, Chandni Chowk, New Delhi
How to get there: Natraj is located right along the main road of Chandni Chowk. You can take the Metro to Chandni Chowk, and when you exit, follow Chandni Chowk road east and Natraj is on your left side, about 200 meters or so down the road, and it's across the street to Gali Paranthe Wali.

View Delhi Travel Guide – Migrationology.com in a larger map
Note: If you're going to Delhi, you might want to check out my Delhi Travel Guide, which gives you lots of tips on where to stay, what to do, and food to EAT!
Get exclusive updates
Enter your email and I'll send you the best travel food content.