Camac Street, which apparently has been renamed Abanindranath Tagore Sarani, is a low-key (and pleasantly calm compared to other Kolkata streets) commercial street in the heart of Kolkata.
Businesses, stores of many kinds, cafe's, and residential condos all flourish along Camac Street.
And there's one other thing, Kolkata street food, which happens to be widely represented and quite famous along the street.
With many businesses, Camac Street is especially well known for its lunch time stalls; So one day, I went on a food adventure at about 11:30 am in search of something tasty for lunch.
Passing plenty of tea stalls and fresh roti vendors, I finally decided on a curry stall that was receiving plenty of business.
Get exclusive updates
Enter your email and I'll send you the best travel food content.
With no seating space or any sort of seating, most of the customers (mainly males), were standing around the eatery while quickly downing delicious looking plates of rice topped with a variety of Indian dishes.
Having no idea what to order, I just asked for rice, fish curry, and a few vegetable sides.
The vendor quickly dished up my lunch, and as he handed it to me, I handed him back 30 Rupees ($0.55); I must say, even coming from Bangkok where there are plenty of $1 Thai dishes, Kolkata street food is still remarkably cheap.
Just like all the other hungry eaters, I found a little standing area on the sidewalk next to an electricity pole and began to dig in, fingers first.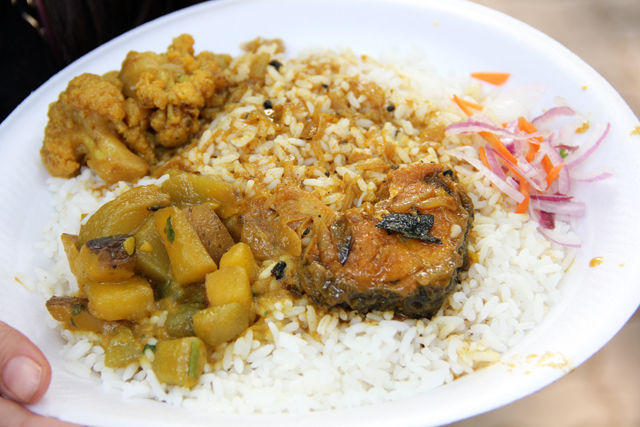 Rice, fish curry, some kind of mixed vegetables, a from of aloo gobi made with spiced cauliflower, and a garnish of red onions and carrots was my meal; Indian food but Bengali flavors.
It came piled on one of the most flimsy styrofoam plates I've ever held, a plate where it was mandatory to hold it from the bottom instead of the edges for fear the plate might capsize.
If eating is on your list of top things to do in Kolkata, like it was for me, you'll want to go on an eating rampage at both Camac Street and James Hickey Sarani when in Kolkata.
Get exclusive updates
Enter your email and I'll send you the best travel food content.