Bahia, a large state on Brazil's eastern coast, lies just south of the Equator.
Not only a home for absolutely incredible Brazilian seafood, its also the perfect place to get to know Brazil through its people.
If you have the chance, I urge you to plan out your own trip to Salvador!
In this article, you'll discover why its diversity makes Brazil such an amazing and special country. I hope you are full of excitement (and ready to be full of Brazil's best seafood as well!) – let me share with you one of the best memories of our own trip – lunch with local hero and chef, the amazing Dona Suzana.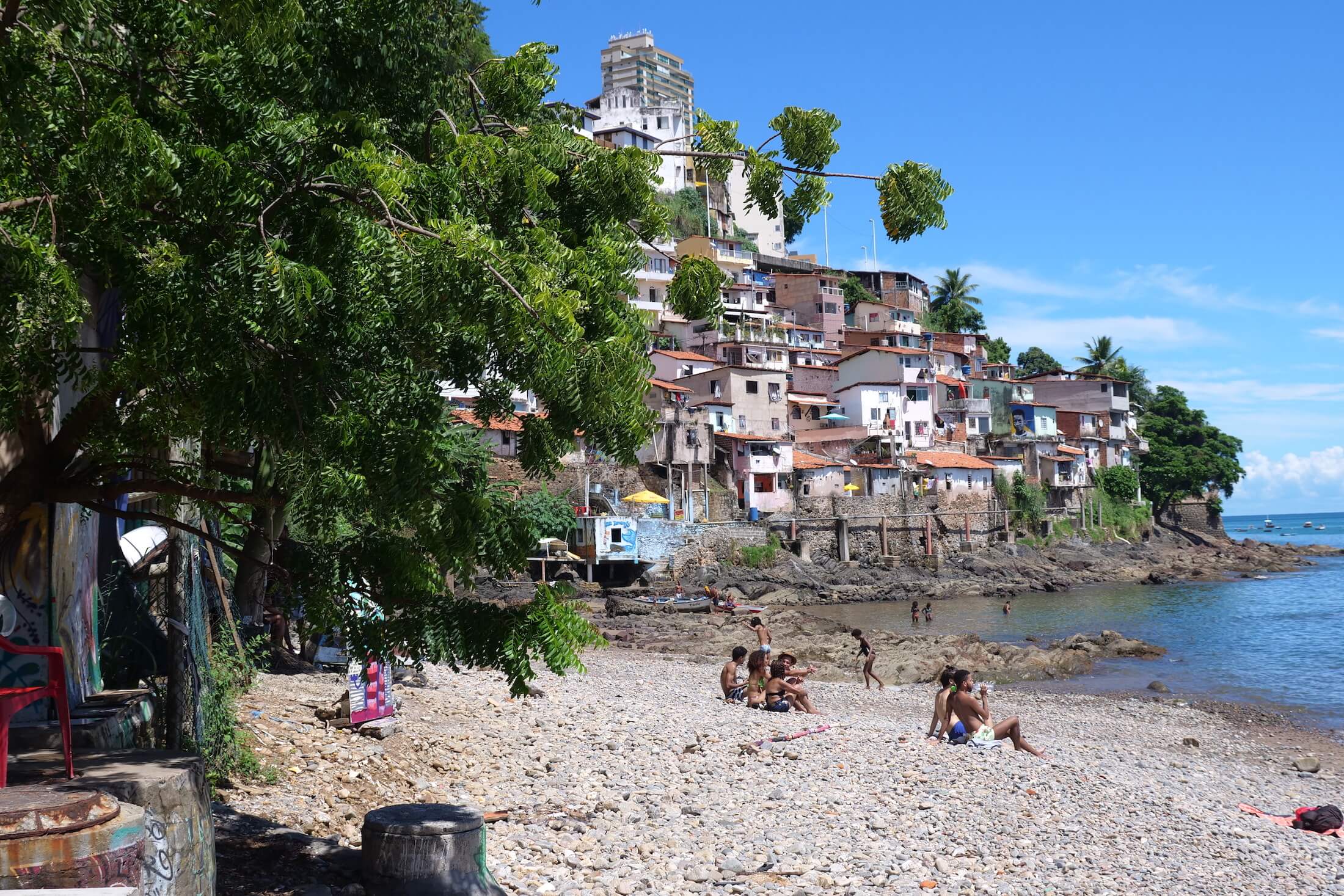 Restaurante Dona Suzana
Looking at a photo like this, its easy to see how beaches in Salvador are world famous.
What I want to draw your attention to even more though, is how the local culture always places emphasis on its people, their history and their art (of which food is one of the best!).
In this way, Salvador is like no other place I've ever seen, and I can't wait to share more with you right now!
Use Dona Suzana as Your Example
Of course, for us, food is at the top of a list of reasons to visit (anywhere), but it was the willingness of locals to share their love of food with us that left us with such great memories. The excitement, and the outward friendliness with which the people of Salvador will welcome you, its all simply amazing.
I am choosing this meal in particular as it should give you a single great example of what its like to eat like a local in Salvador da Bahia, Brazil.
Scroll down now, and learn about Ré Restaurante Dona Suzana.
Cheers to you, Dona Suzana, and cheers to Bahia – and much love to Salvador!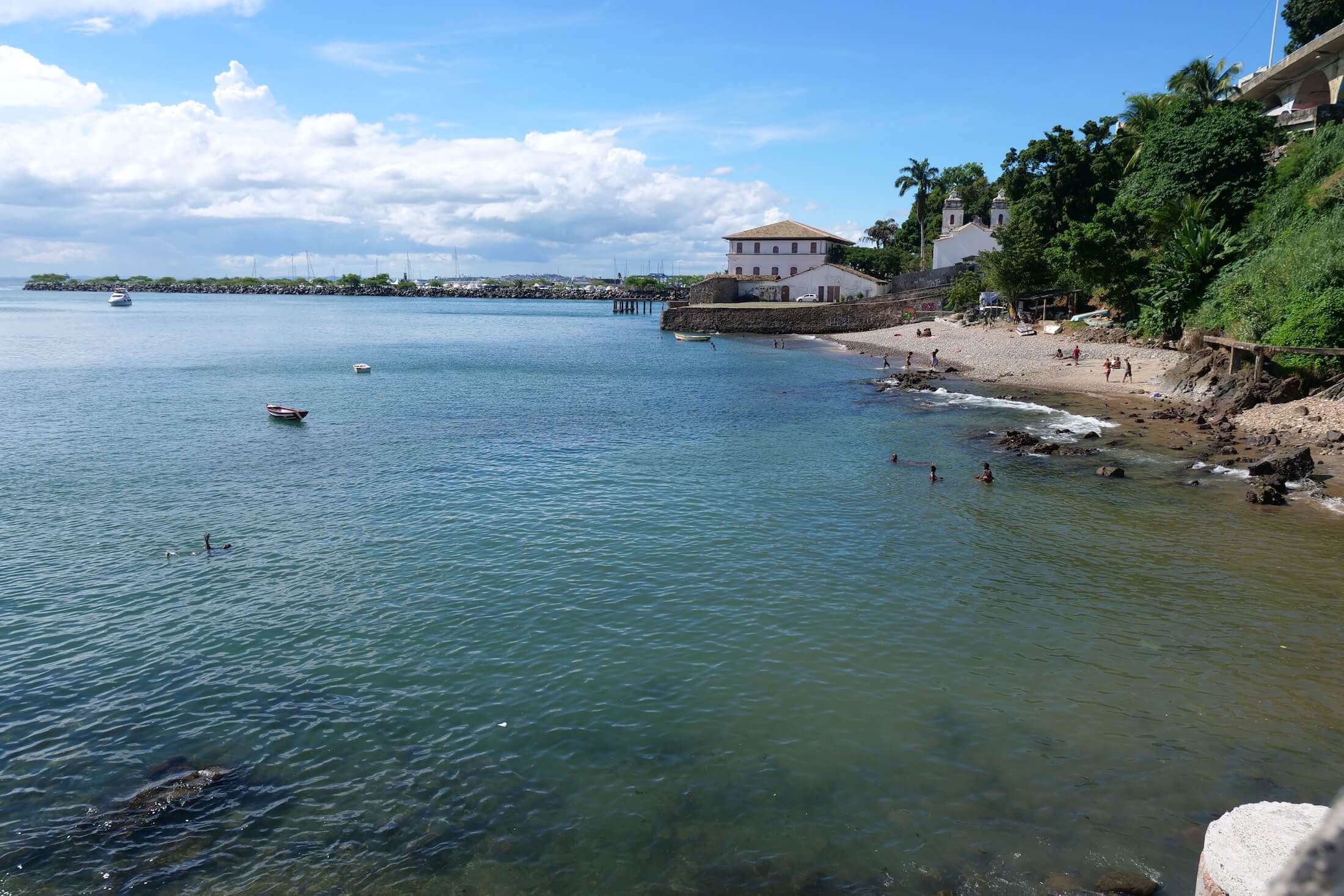 I have left the link below, but even with GPS info, there's definitely no easy way to find this place.
You are going to need to drive, and then finish with a walk (but in this case building an appetite is almost a necessity).
Your next feast of Brazilian seafood is not only just around the corner, its actually underneath Salvador's Historic District, in an amazing community hidden below the seaside highway!
Parking is Limited – Bring Your Beach Shoes
There's no space for cars, barely even room for motorcycles, and due to ocean tidal flow, even the time of day is important to note here.
The time of year and tide times will determine which staircase you are going to need to use – spend a moment and watch the locals walking, they can help to guide you on your way.
Trust me though, its well worth your efforts, because the combination of local food and the warmest of welcomes here, just may make this lunch your own 'favorite food memory' for your entire trip to Brazil.
Let's go!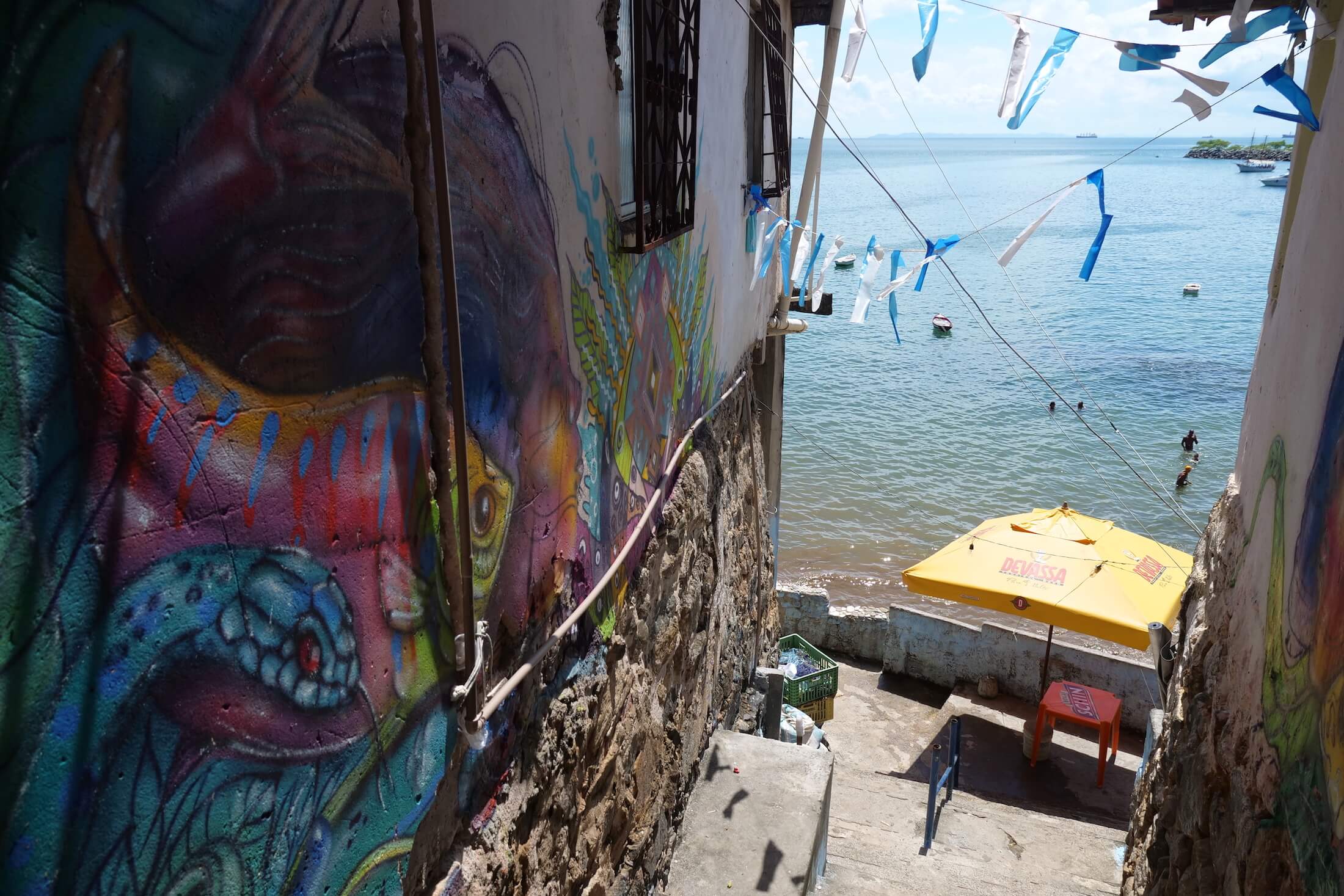 Try Not to Get Distracted…
Restaurante Dona Suzana is not a large restaurant, and that's probably unlikely to change.
Proceed down (and then up) sets of broken cement stairs, passing beside one of the more beautiful (yet lonely rock-strewn beaches) I think I've ever seen in my life.
The spray paint artwork is absolutely amazing here as well, just exploding off every flat surface available.
Artistic decorations will turn your head (careful on the stairs!), and make you want to fill your camera phone with photos even before you order your food. You may even have the beach all to yourself, so take some time to enjoy the view (or even a swim) if you come to the restaurant during midday.
Get exclusive updates
Enter your email and I'll send you the best travel food content.
Finally, up several more sets of crumbling cement stairs, you'll find the home of Dona Suzana, one of the coolest local restaurants you could ever hope for, and a veritable buffet of delicious Brazilian seafood.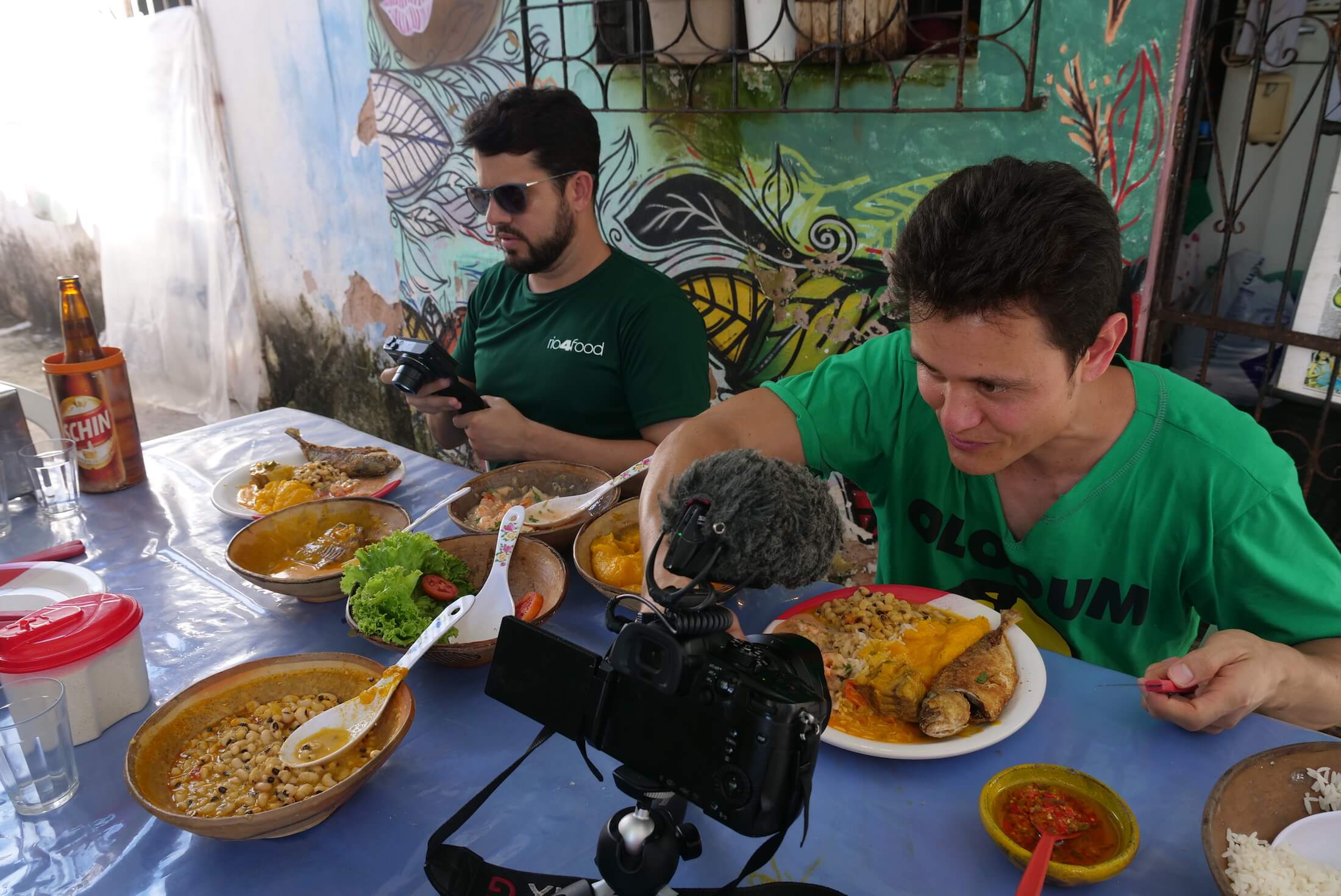 Introduction to Bahia's Seafood
Senora Susana may greet you personally, as her restaurant consists of just two tables.
Sit in a romantic smaller section for two, complete with a seaside view, or sit directly in front of her kitchen, and enjoy the immediate and friendly relationship I am sure she'll build with you.
Start by looking at the menu, full of tasty-looking seafood (but it may be faster to simply trust the chef, "one of everything please!"*), or order a drink and sit for awhile.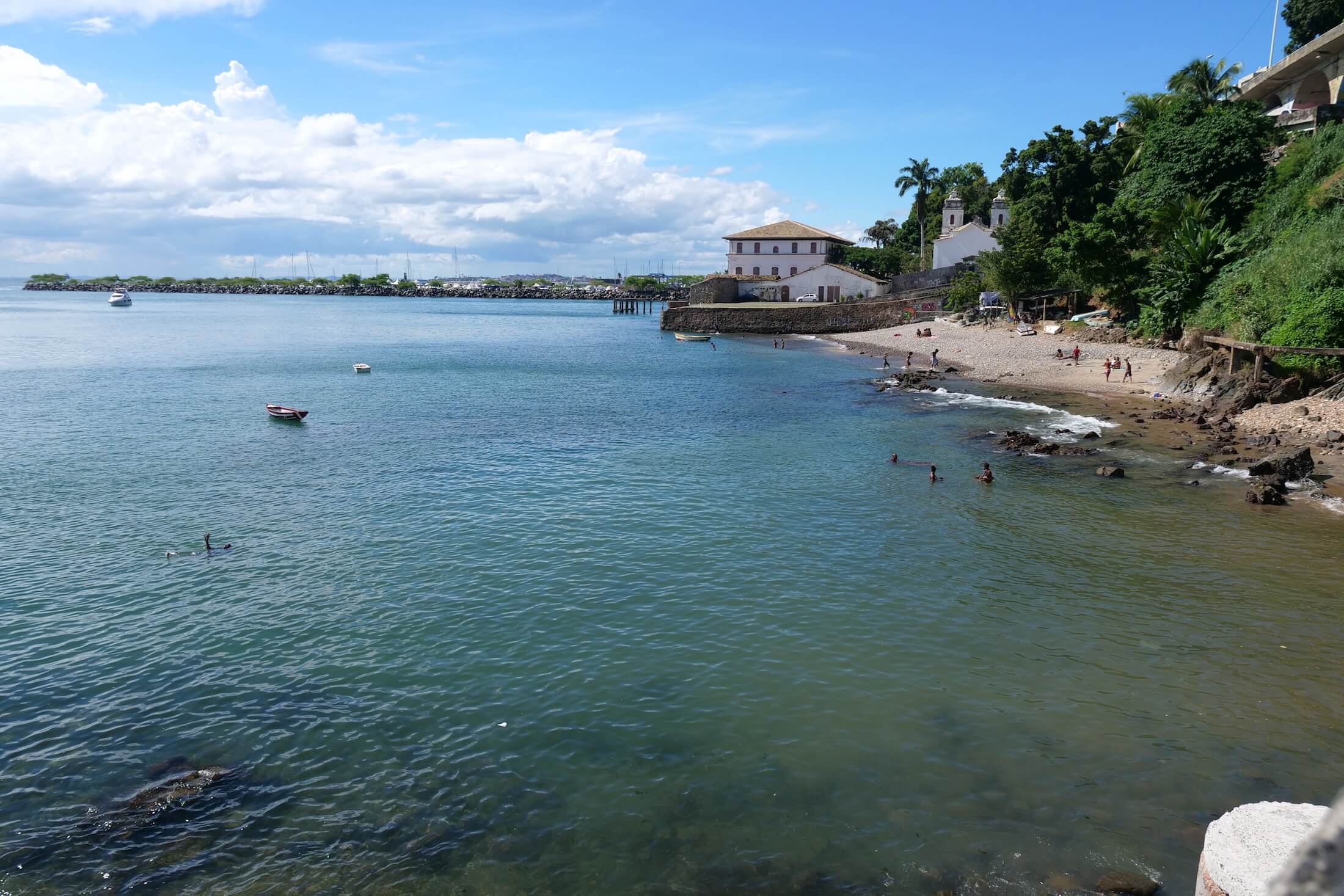 *My favourite order at a restaurant like this though is "one of everything, please," for just a few basic and important reasons. I've found that if you already trust the chef, then this is just the quickest way to food happiness, and I'm telling you that here – Dona Suzana will be treating you well.
With the portion sizes she is serving, three or four different seafood items should be just about right, and maybe two or three sides (veggies) to go with your seafood as well (we were a group of 5 this day, and with this same order we were full).
A Little Back Story
Before the food arrives, you might enjoy a cold Devassa beer (a local lager beer) which is a perfect companion when looking out over such a view as the one you'll find here.
If its still too early for beer, then enjoy just yourself in the moment here – a quiet, local food paradise, getting lost in the small bay full of local fisherman, remembering how just minutes before you were lost somewhere above, on a 4-lane highway, looking for this restaurant…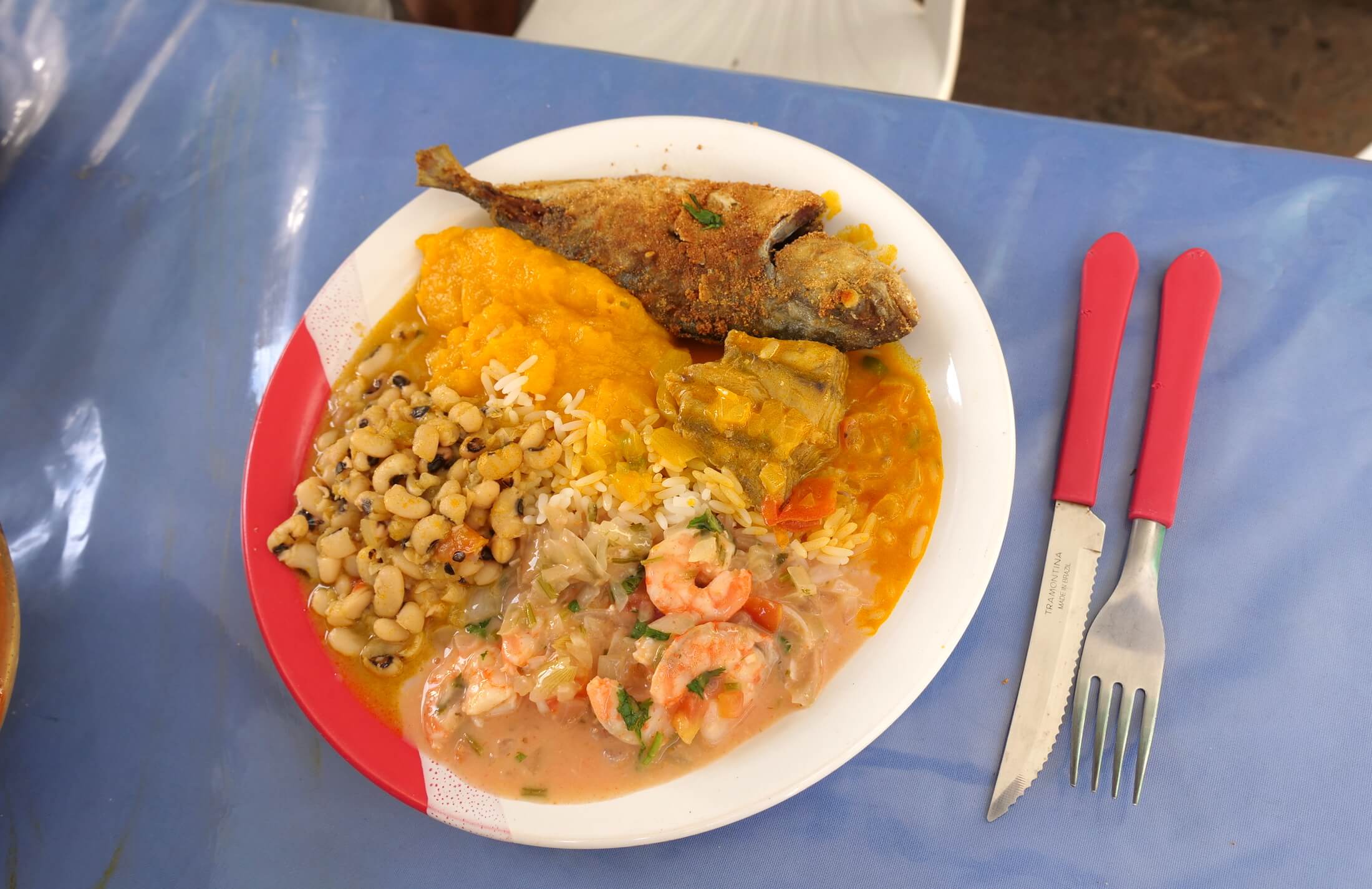 The Meal
You are here to eat Brazilian seafood like a local, and at Restaurante Dona Suzana, this means you eat 'Family Style.'
When you order full-plate items of seafood here, each dish will come in a large portion size to share – I love eating this way though, because it means that everyone gets at least one taste of each dish!
Start by laying down a bed of either rice, beans, or both. Spoon different items onto your plate, and don't forget the chili oil. Find which dishes you love the most, and feel free to refill (or re-order) as necessary.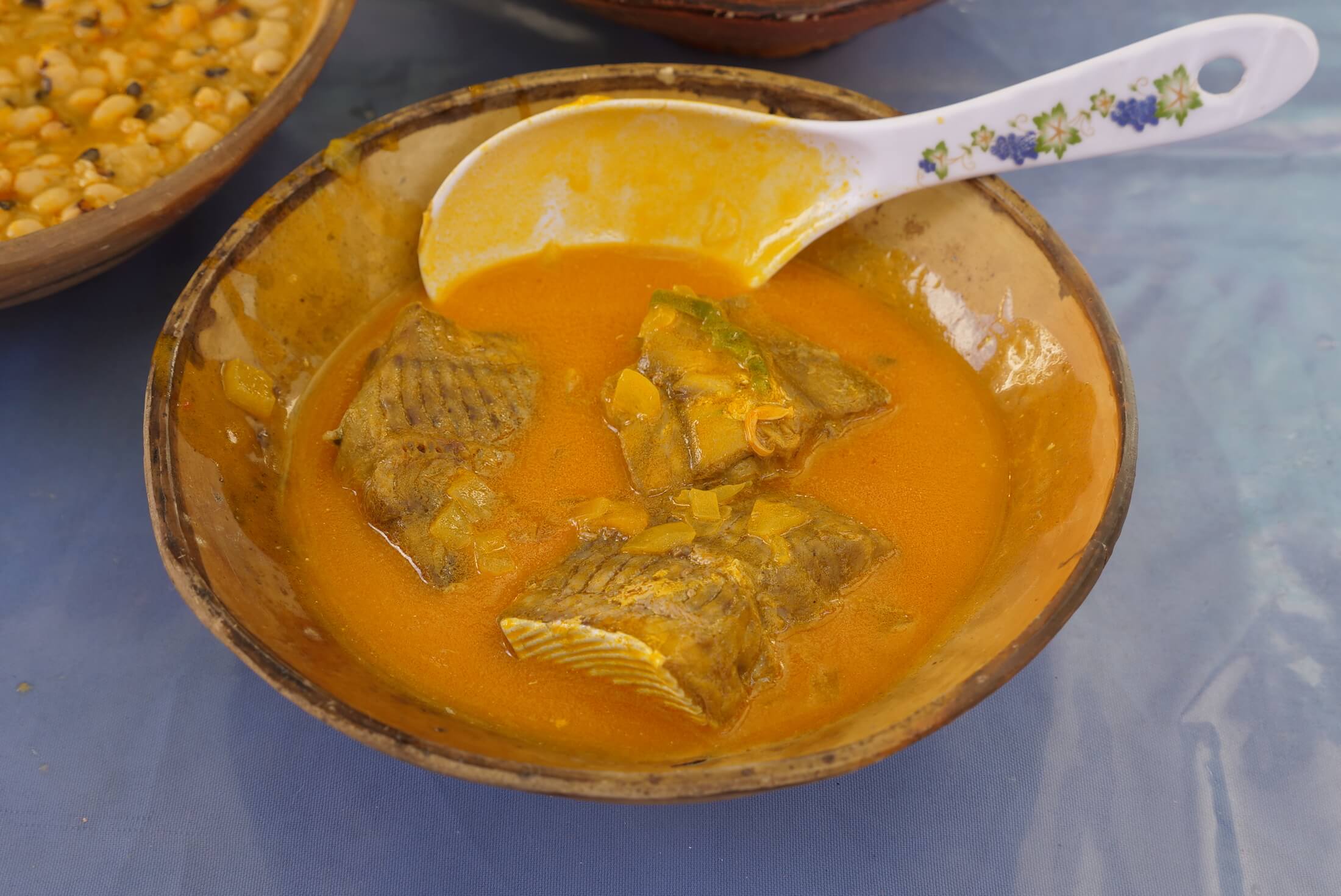 Moqueca (w/Manta Ray) – Moqueca (de Arraia)
Moqueca is where you should start, one of the ultimate foods of Bahia. It could even be said that this dish alone is one of the things most exciting about Salvador's local food culture.
Different from the interior of Brazil (which teems with overflowing amounts of freshwater river fish), chefs in Bahia make moqueca using almost entirely salt-water fish (and plenty of other seafood as well).
A very popular meat to eat here in Salvador is Manta Ray, which they fish directly from their own coast.
Afro-Brazilian Culture – Saltwater Fresh Fish
Possibly the thing to love most about moqueca though, is the obvious Afro-Brazilian food cultural roots.
Palm-oil stews full of onions and tomatoes are such a staple in West Africa, and wait til you taste them in combination with a local Brazilian spice profile. Add in the quality fresh Brazilian seafood, and you have a truly local (and absolutely world-class!) North-East Brazilian favourite food.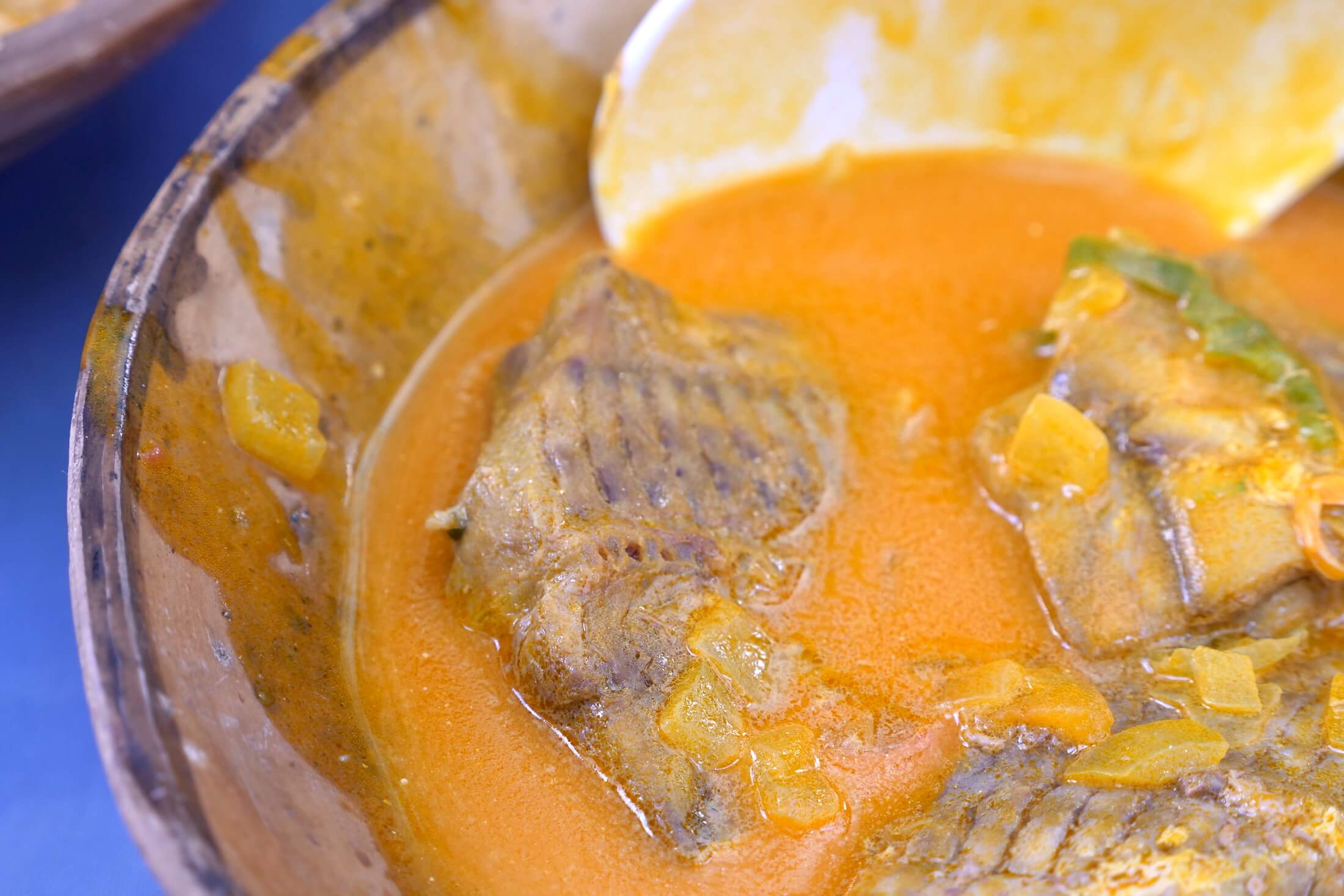 The Dendê Oil…
Adding the dendê oil to moqueca is what gives it the deep orange color, as well as some incredibly deep amounts of richness in flavor.
This was our introduction not only to Salvador's amazing seafood, but also their love of dendê oil – something that I see could easily become an addiction as well.
Dendê oil is taken from the red palm, a type of palm that (although it looks very dark in color) produces healthy type of oil. The more commonly known 'kernel' palm fruit (or 'normal' palm oil, which you can learn more about here) has higher amounts of saturating fat – something this Dendê oil is without.
Soon you will recognize the dendê oil in many other other amazing North and North-East foods of Brazil as well. Acarajé, abará, pirau, and vatapá all use dendê in the recipes. After tasting the richness of this oil for yourself, I'm sure you'll soon find yourself an addict of this incredible Afro-Brazilian food ingredient.
Manta Ray Fish
Ray can be difficult to eat sometimes, due to both the stringy meat and the intricate bone structure of this fish, and so locals prefer this meat best as they have it slow-cooking in a moqueca.
Never having manta ray myself before our visit to Salvador, the fish meat is firm, dry, and impressively tasty, barely like fish at all. It does not come apart in this stew, and the chunks of meat sort of soak up the oils and oily flavor as well. It tastes almost like a sun-drying meat jerky, and from the texture, its almost hard to believe that its fish at all!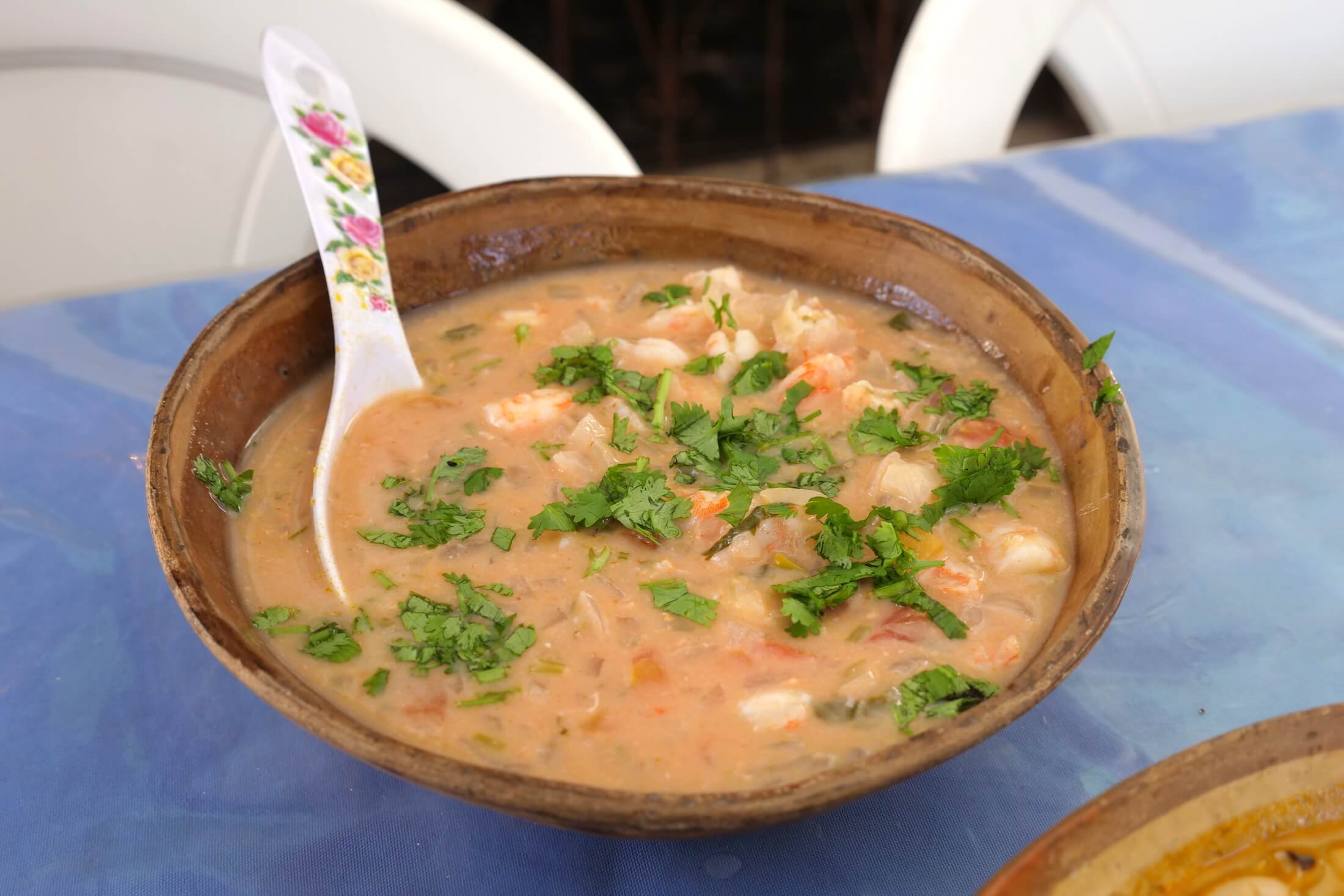 Shrimp Stew  – Ensopado de Camarão
'Ensopado' translates directly to the English word 'stew,' and this shrimp stew should be the next item on your list.
Change it up if you like, or just continue to follow our recommendations here – one dish each of shrimp, fish, and manta ray is a great combo, and we think that for shrimp, the stew is the way to go right here.
Her Recipe
The stew broth is very thick, as Dona Suzana uses a lot of both tomatoes and okra in her recipe. Sour, and wonderfully creamy, there are also chunks of onions, carrots, and green peppers in this ensopado.
I love the bright taste of that sour stew with a few shrimp, the soft onions, eating it together with the cilantro that she puts on top.
I couldn't tell whether she uses lime juice or vinegar, but this is such a great combo to have with moqueca (or another Bahia favorite, 'bobo,' like we have at the Salvador Mercado Modelo market for lunch the next day).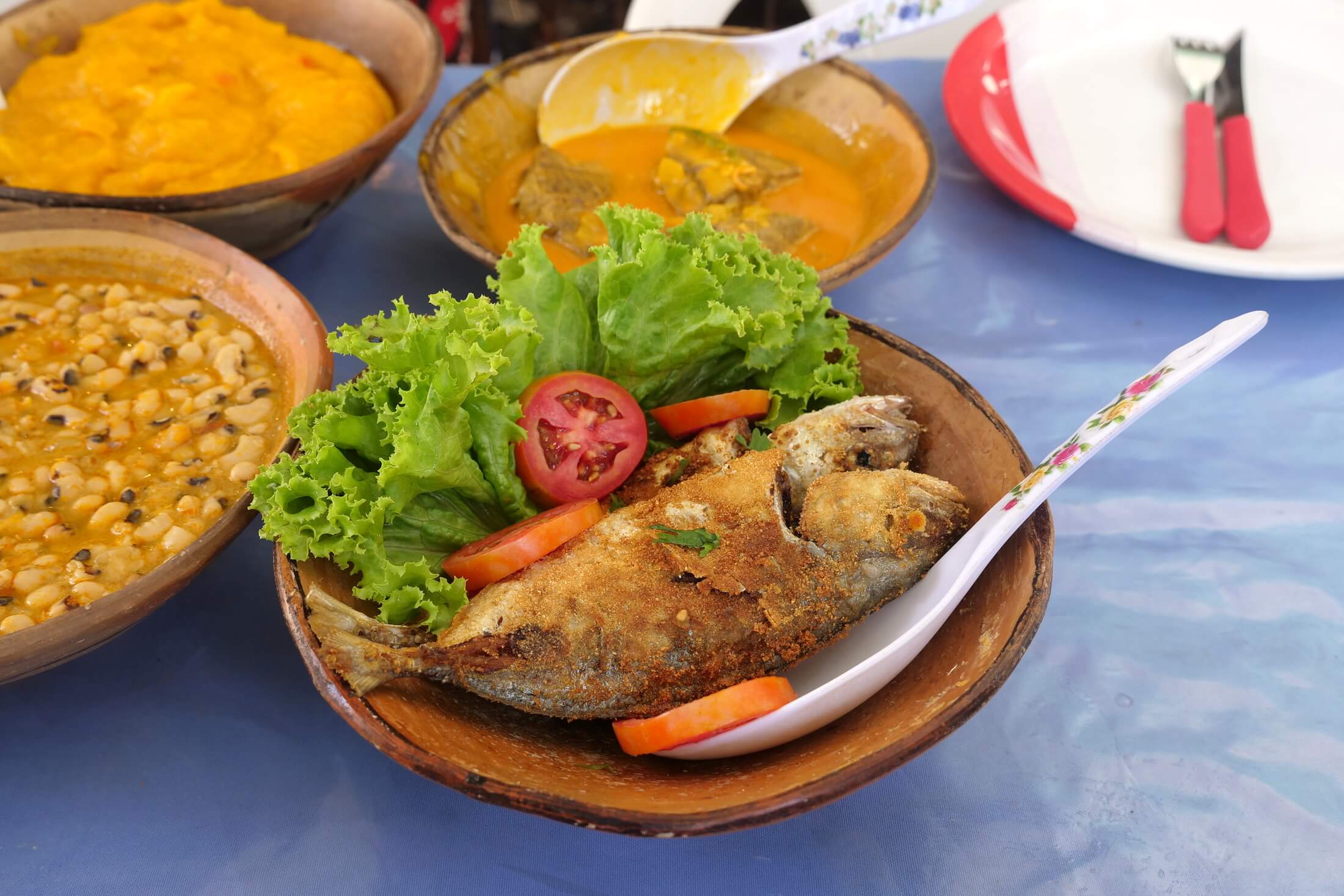 Fried Mackerel
For a final seafood order, you can never go wrong with a few mackerel fish.
Deep frying these fish after breading them lightly outside, she serves them simply and beautifully with just a few fresh vegetables.
While I can't say its a light lunch by any means, the fact that all of these dishes are either seafood, or made entirely from vegetables, keeps the meal from being nearly as heavy as it otherwise could be.
Mackerel is definitely a favorite fish the world over, and its very cool to see it both at home so often back in Thailand, and today for lunch, here in Salvador, Brazil.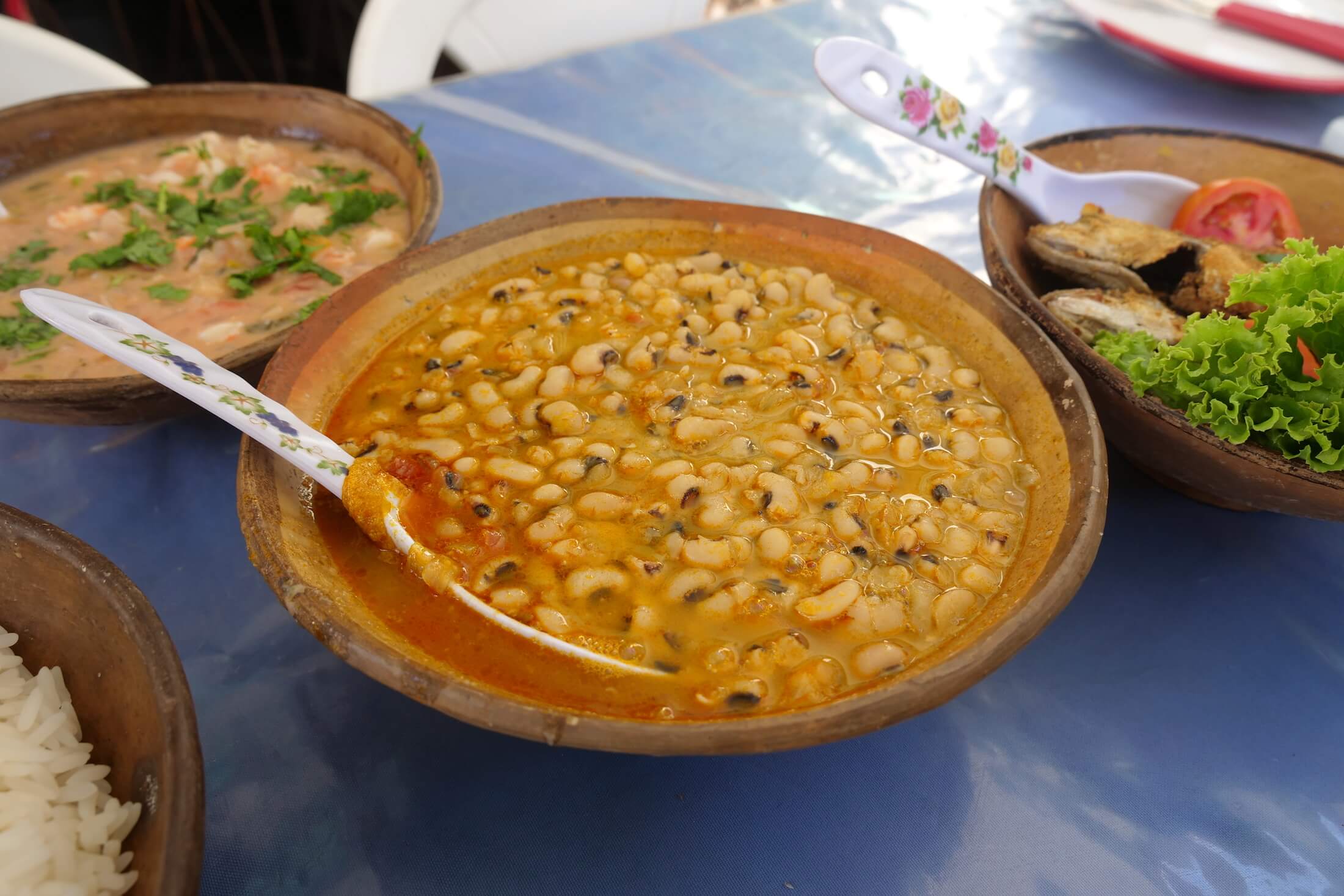 Black Eyed Peas
Bahianos (people of Bahia) just love using black-eye peas. This huge bowl of them will go perfectly with any other food you order, especially a table full of Brazilian seafood like the one you see in photos above.
Dona Suzana prepares them with just salt and black pepper, adding in coconut oil, and using the natural creaminess of the beans cooking to make the texture like a stew. Have this over rice, or use the beans as a base for your bites of seafood, this filling but healthy food is another example of the taste-preferences you will see sharing between Brazil, and the Western coast of Africa.
There are many dishes of local food in Salvador that feature this wonderfully cute and hearty bean,* and another thing you can't leave Bahia without trying is acarajé (learn about Acarajé de Ivone here).
*Black-eyed peas are not peas, they are beans (legumes, just like peanuts) – so if you have a peanut allergy, be sure that you can order this dish.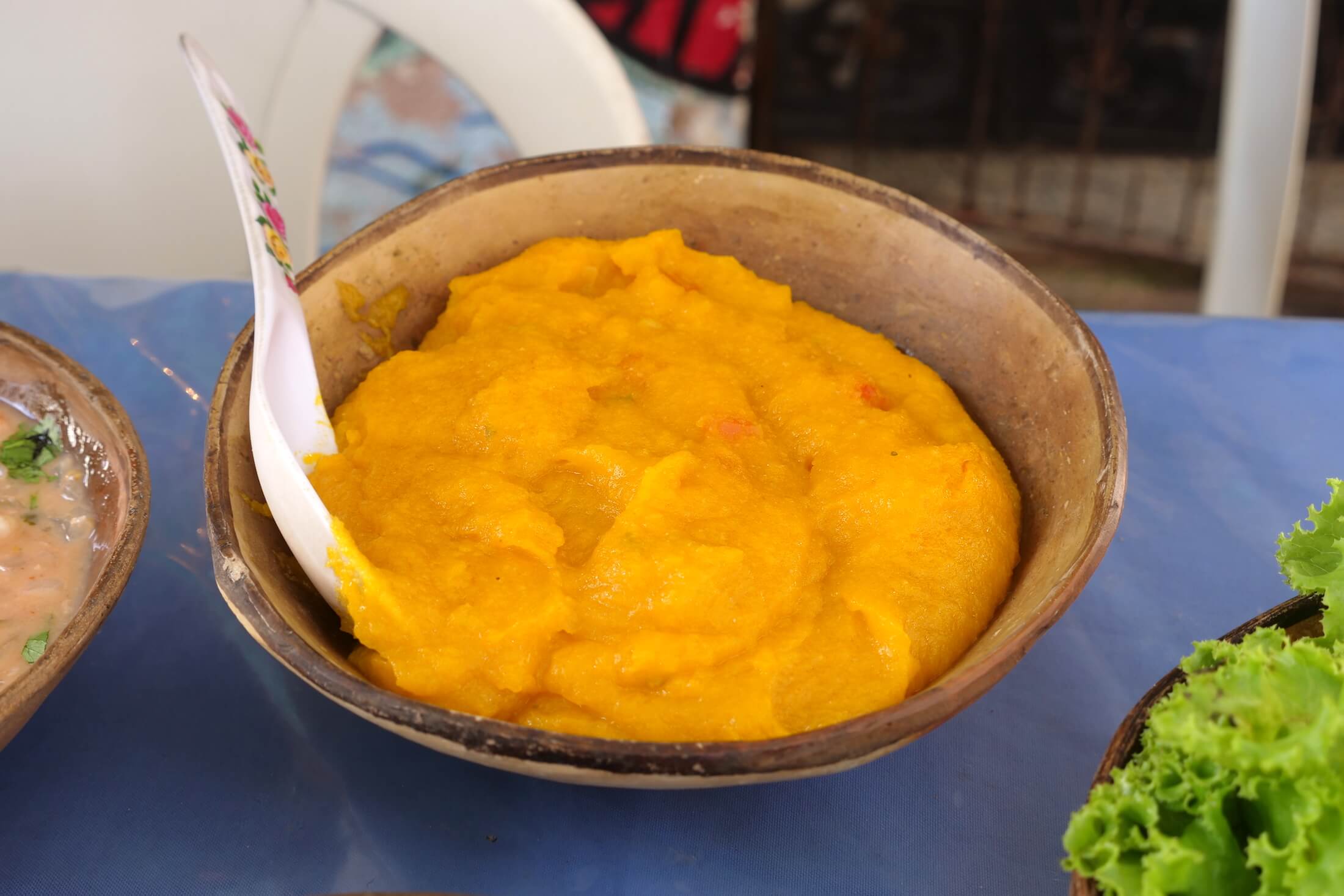 Pirãu – Cassava Paste
Finally its time for Senora Suzana's incredible plate of pirau. She makes it rich, she whips and stirs it up perfectly, including healthy portions of more red pakm dendê oil.
Pirau is a texture lover's delight, no matter where you have it, and just take a moment to appreciate that beautiful color of orange!
It is the first time for us to eat this food, but for locals in Brazil it immediately reminds people of vatapá (another North and North-East Brazilian favorite food, a delicious paste, a mash of ingredients, something you also need to try while you're here).
Pirãu is So Incredible Creamy
With a consistency somewhere between potatoes, and the thickest and most creamy bowl of porridge ever, the taste of pirau is unique.
As there are no fermenting ingredients in the recipe for pirau, there is no sourness present in this (vatapá uses tucupi, fermenting manioc juices).
The richness, of course, is due to more of the wonderful dendê oil, so be sure to top your rice with a large scoop of pirau for good measure.
After your first portion, be sure to try a combination of fried fish, pirau, and a giant scoop of the oil-base chili sauce she makes for each table.
Delicious – another cheers to chef Dona Susana!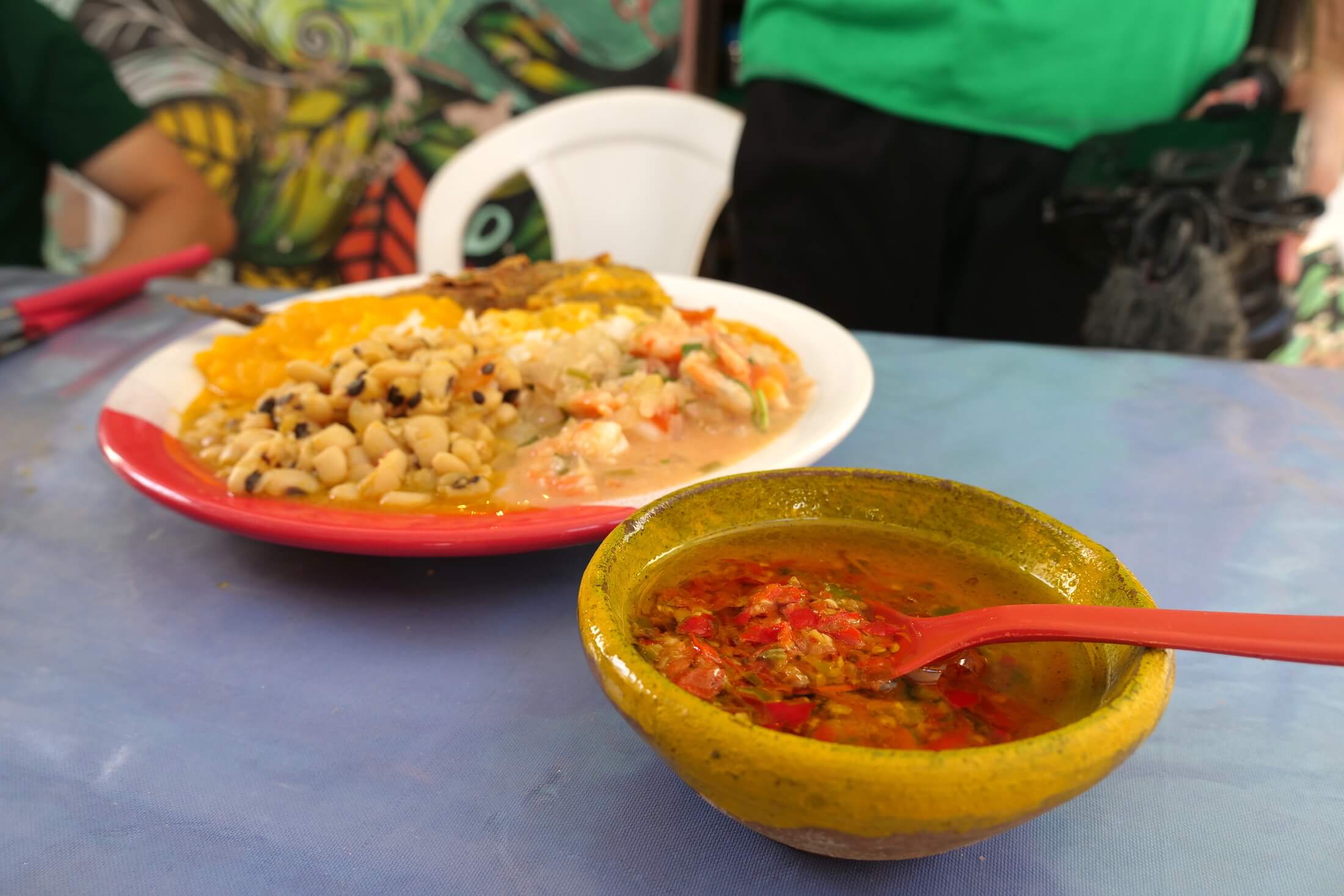 Unforgettable Chili Oil
I love how every restaurant table setting comes with both farofa (cassava powder, see an example of that here), and chili oil. These two condiments together are definitely something I'm sure we will both miss after a food visit to Brazil.
It goes without saying that I think almost anything tastes better after adding chilies – and I'm even including an entire section here just to talk about this (wonderfully key) part of Brazilian food.
Brazilian food is surprisingly un-spicy actually, when you consider how incredibly hot the chili peppers are that grow here.
From Carolina Reaper to Trinidad Scorpion, local Habañeros or even foreign peppers like Naga Jolokia, all things hot and spicy just flourish here – its another level of chili power, and any chili lover owes themself at least one trip in this lifetime to Brazil.
Not only the chili heat, but the flavor in them as well, are just crazily delicious.
Its awe-inspiring, and yet one more reason that I'll always be missing Brazil…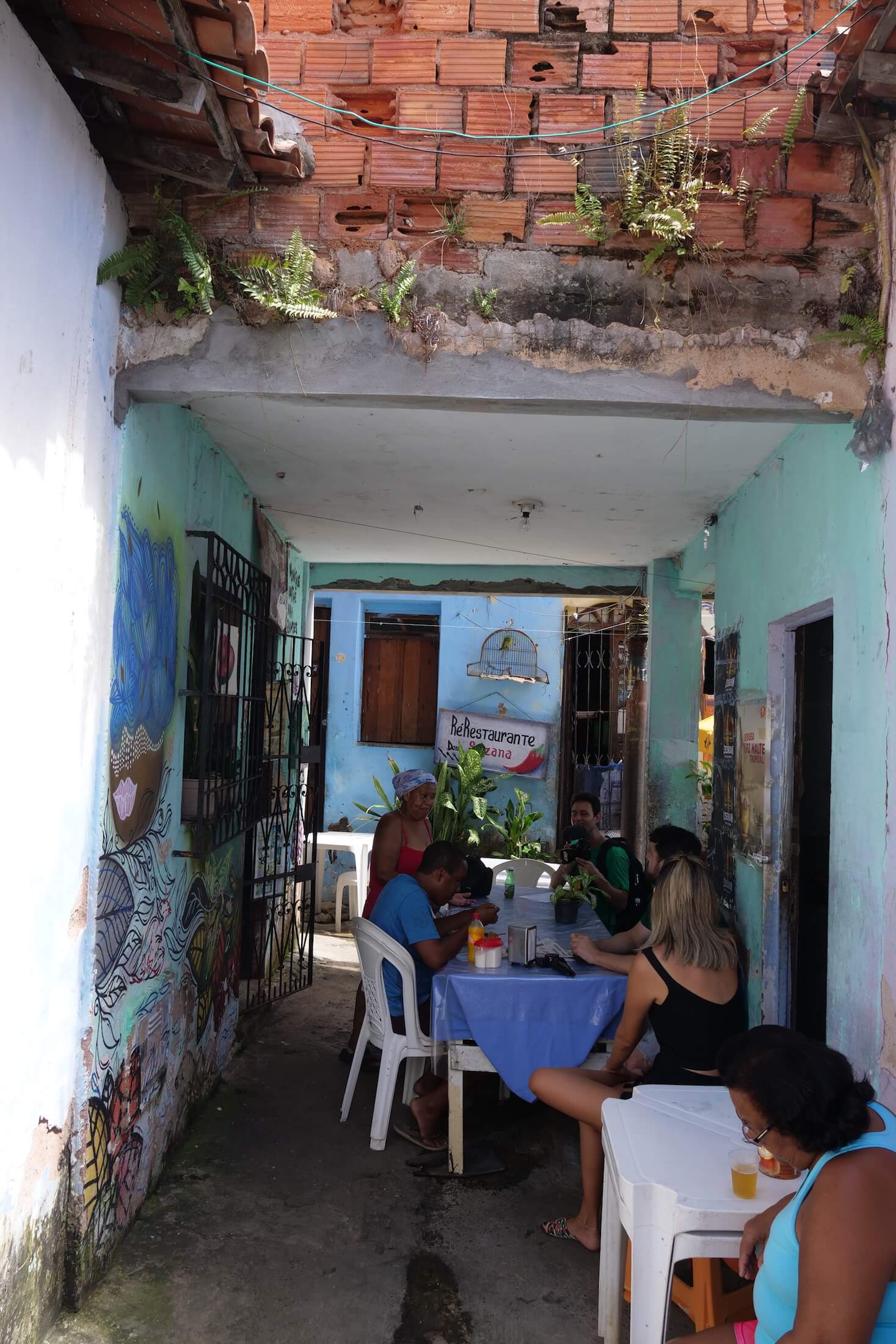 The Heartfelt Hospitality is Incredible
A great example of how hospitable the people of Brazil can be to outsiders, although we speak little to no Portuguese, Senora Suzana immediately treats you like family.
Entering almost right at high-noon, she saw how our faces were sweating while walking across the beach to her house. Before even talking about food, what does she do?, she immediately opens her door to us, offering the use of her own shower!
Amazing. I miss her even thinking about this experience right now.
Starting any meal with such a welcome so heart-warming is amazing, and the love and kindness didn't even stop there.
An Amazing Welcome
The style in which she runs her restaurant is so wonderful – She is basically cooking directly out of her own kitchen, setting up tables in front of her own front door.
There's only space for two tables, and four or five people at each. She will serve you like she's serving guests of her own family, and she'll help you extend your visit to an-all day meal if you let her.
Calling out from the kitchen, asking for any additional food info, drinks, or snacks before the meal, it felt as though we really were guests in her home.
What a way to start a day of Travel for Food in Bahia.
(and by the way, you should watch the video of the entire day as well, here's the link to the YouTube video for street food in Salvador)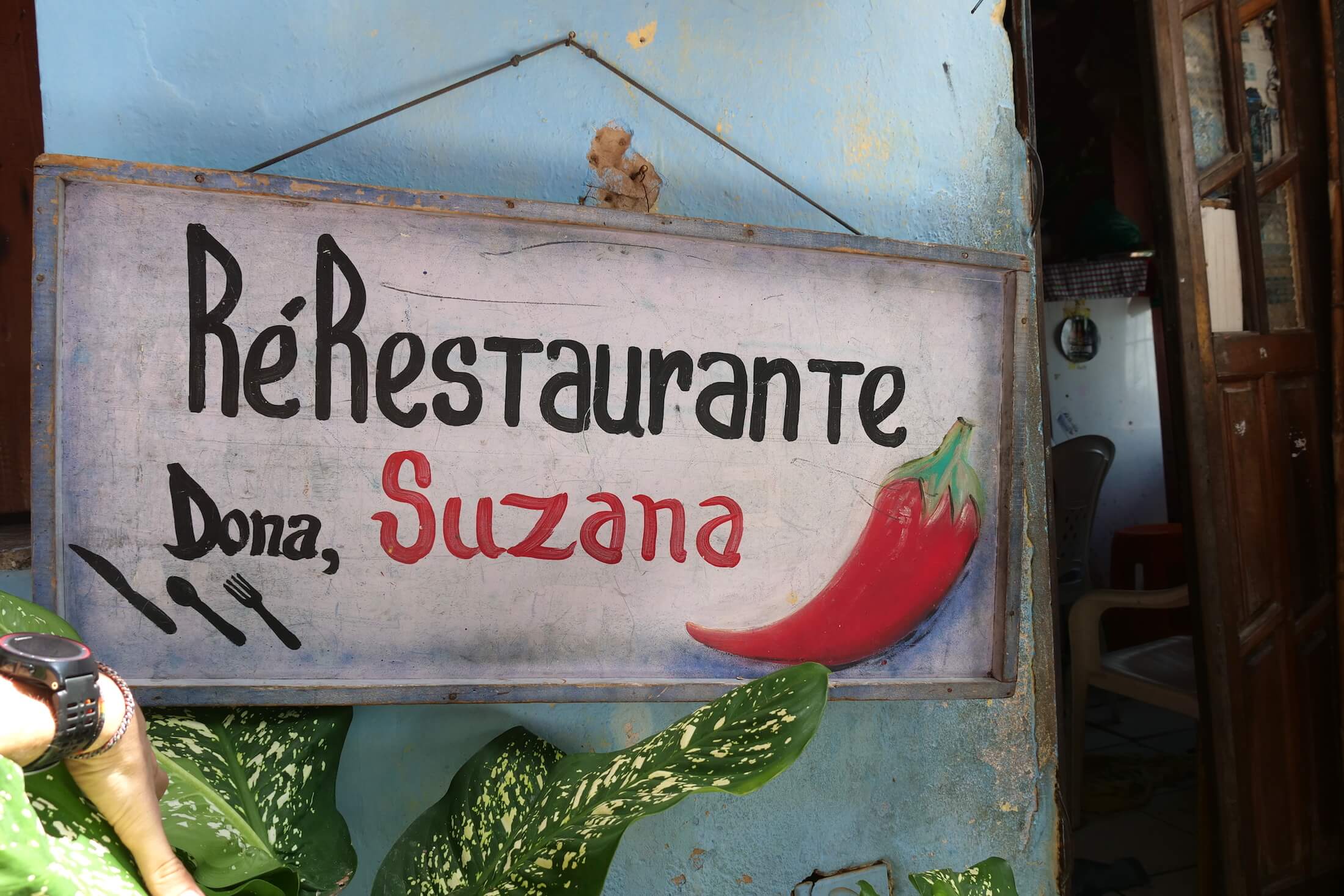 Name: Ré Restaurante Dona Suzana
Location: Google Maps (link here)
Hours: Open Daily, 12pm to 6pm
Price: R$87 for our entire meal here, 5 people including drinks (US$22)
Get exclusive updates
Enter your email and I'll send you the best travel food content.