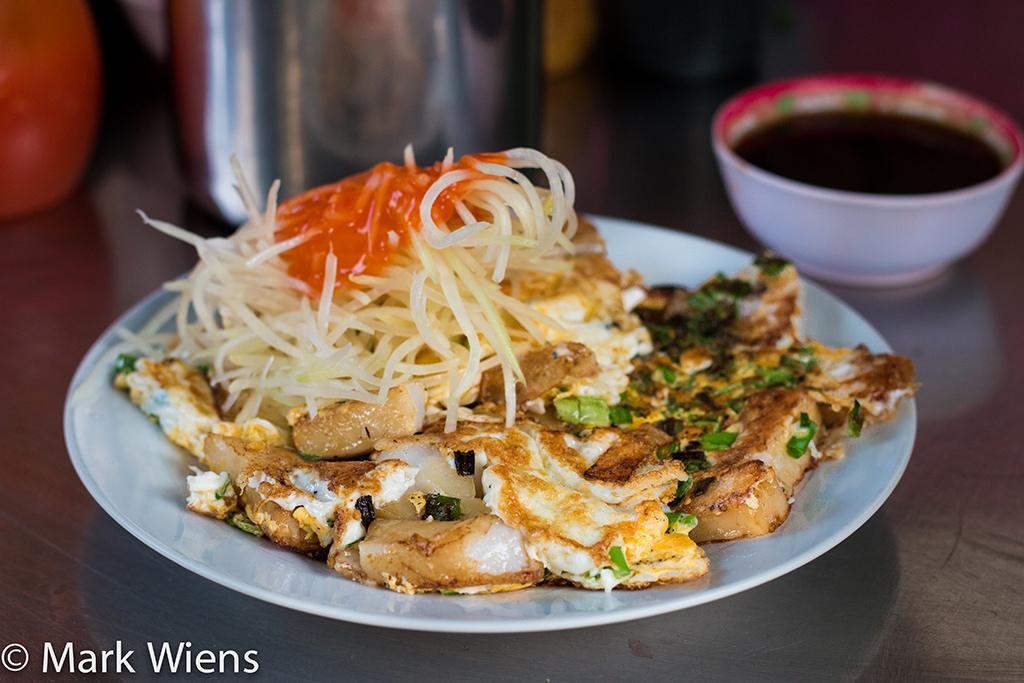 One of the best places to eat delicious food in Vietnam is down alleys or deep into markets.
While exploring all sorts of tasty foods in Saigon, one day I was walking down a side street, when I saw a sign for "Bột Chiên," along with a makeshift permanent food cart, and I knew I needed to sit down for a bite to eat.
What is bot chien (bột chiên)?
Bot chien is the Vietnamese version of fried rice flour cakes.
It is similar to Chinese style chai tow kway, or the Singapore / Malaysian carrot cake, but rather than including daikon radish, in Vietnam the little rice cakes are often made of just rice flour and some tapioca starch.
The rice flour cakes are sticky, thick, and starchy – the closest comparison I can think of is by way of texture is polenta – but probably a bit thicker.
The cakes are then sliced into little cubes or rectangles, fried in quite a generous amount of lard until crispy and golden brown on the outside, then topped with an egg to make things even better.
Bot chien on a Saigon alley
Just from the look of this food stall, I knew it was going to be good – and not only good, but also motherly style.
She just had that motherly look to her – "like sit down, and I'll hook you up with a plate of food that will totally warm you up and make you feel good and comforted."
So I had little choice but to sit down.
Since she was just serving one thing, bot chien, it wasn't hard to order, despite our communication barriers.
The main question was just how many plates we wanted, to which it was easiest to smile and hold up the amount of fingers, indicating the amount of plates we wanted.
Since Ying and I had just eaten a plate of delicious crispy Vietnamese mini pancakes, we decided to just get one plate of bot chien and split it.
Get exclusive updates
Enter your email and I'll send you the best travel food content.
The lady nodded with a slight smile, and began cooking.
In the meantime, while we sat and relaxed on metal stools surrounded by motorbikes, we met a little guy along with his grandmother.
They were just hanging out, enjoying the aroma of the bot chien and chit-chatting.
Just like at so many other restaurants I ate at in Saigon, they were extremely friendly, talkative, and were very hospitable.
Food is the ultimate way to have cultural experiences when you travel.
Back to the bot chien…
She started working away, frying the rectangles of rice cake in lots of oil, and as the oil began to dry, she added more oil.
The rice cakes turned from white in color, to golden crispy goodness, and when she decided they were ready, she added a portion of them into the middle of her hot skillet.
Next she cracked on a couple of eggs – I think at least one, maybe two – and allowed the eggs to just sort of sizzle around the rice cakes, forming a hearty omelet.
While the egg sizzled and bubbled away, she then topped it all with a handful of sliced green onions, some extra pork cracklings, and finally a dash of salt and pepper.
The cooking process, and all the lard, reminded me quite a bit of the amazing oyster omelets in Bangkok, just without the oysters.
As soon as the egg was cooked, she then scooped the entire bot chien onto a plastic plate, and indicated if I'd like some shredded green papaya on top, to which I nodded with enthusiasm.
She handed it to me along with a side of dark sauce.
Vietnamese street food – bot chien
The bot chien was as awesome, greasy, and tasty as it looked.
The rice cakes were slightly crispy on the outside edges, but smooth and creamy on the inside, and slightly sticky.
The egg, coated each nugget of rice cakes, and I could really taste the green onions, and the fresh green papaya on top.
The dark sauce was very mellow, not too strong, but just slightly sweet, salty, and sour, all three flavors almost even and balanced.
I saw others dump the entire bowl of sauce onto their bot chien, but I just decided to use it sparingly, and add on some sauce with each bite.
It was kind of like a hash-browns omelet, only Vietnamese street food style.
One of the things I really liked about this version of Vietnamese bot chien is that she served it with a handful of fresh and crisp green papaya on top.
Bot chien is very rich and quite oily, so that bit of green papaya made it a little less heavy, and sort of balanced out the oiliness – I thought it was a delightful addition.
Conclusion
Bot chien (bột chiên) is the Vietnamese version of chai tow kway, rice flour cakes that are fried with lots of oil, topped with an egg, and served with a sweet and sour soy topping sauce.
The snack or light meal, is very popular, and widely available throughout Saigon, especially as a street food.
If you're looking for something tasty and comforting when you're in Vietnam, stop at the next stall you see serving bot chien.
Street food stall at Chợ Bàn Cờ Market
You'll find bot chien scattered at street food stalls throughout Saigon, and it tastes, and is prepared similar everywhere, so you don't need to go to this exact place to experience it.
However, here's some information just in case you're in the area:
Address: This particular stall was along Hem 174 Nguyễn Thiện Thuật, just off Ban Co street, very near to Chợ Bàn Cờ Market
Open hours: I just kind of randomly sat down at this place, so I'm not sure of the open hours, but I think she must be open in the middle of the day, from morning to evening.
Prices: 25,000 VND ($1.15)
On the map, scroll down until you see "Bot chien stall."
Get exclusive updates
Enter your email and I'll send you the best travel food content.