When I visited Kolkata, one ultimate desire I had was to eat an authentic Indian Bengali meal.
So after reading a few reviews and being recommended by a friend, I set off one evening to find Bhojohori Manna, a restaurant serving strictly Bengali food.
Just a few blocks before the incredible Deckers Lane and moments before the Mango Lassi Lane in Kolkata is Bhojohori Manna.
Coming from the outrageous traffic of the Kolkata street below, the restaurant was a little stuffy enclosed compartment with no outside light and remained quite quiet from the honking insanity that was outside the thin wall.
Due to its popularity, there are now a few branches of Bhojohori Manna around Kolkata and even in a few other areas of India.
The menu was extremely extensive, probably a hundred dishes and combinations or so, and written only in English transcribed Bengali; Needless to say, I had no idea what to order other than using the good'ol and point to choose method.
Luckily, the wait staff were all friendly and went through the menu circling Bengali dishes they thought I would be interested in sampling.
Get exclusive updates
Enter your email and I'll send you the best travel food content.
Knowing that nothing would be bad on the menu, I took their suggestions and soon had a breathtaking spread of Bengali food delivered to our table.
I'll admit, Bengali food is not the most attractive in appearance; Many of the colors are brown and black, meat and chicken are cut into unidentifiable pieces, and the vegetable dish I ordered looked like a blob of half digested plants.
It's not exactly that colorful medley of gastronomy that comes with a spread of Thai food.
But I'm certainly not one to grumble at the looks of cuisine.
And as soon as the meal came, I was more than ecstatic to start digging in. Like just about all Indian food, Bengali food is traditionally eaten using your fingers.
Here are the awesome Bengali dishes I had at Bhojohori Manna.
Bhetki Kalia
Fish is a big part of Bengali cuisine, and this initial fish curry was stunning. It was lightly sweet, spicy, and I could detect a nice fragrance of mustard oil in the mix.
Mochar Ghonto
Wanting to add a little vegetables to my mix of Bengali food, I ordered the mochar ghonto. It's a dish made mostly from banana flowers curried with spices, mustard oil, and ghee. Despite its lesser appealing looks, it was one of the most incredible dishes of the meal.
Jumbo Chingri Malaikari
Similar to the giant shrimp I grilled, the jumbo guy was cooked in a thin and flavorful coconut based curry sauce. It was marvelous.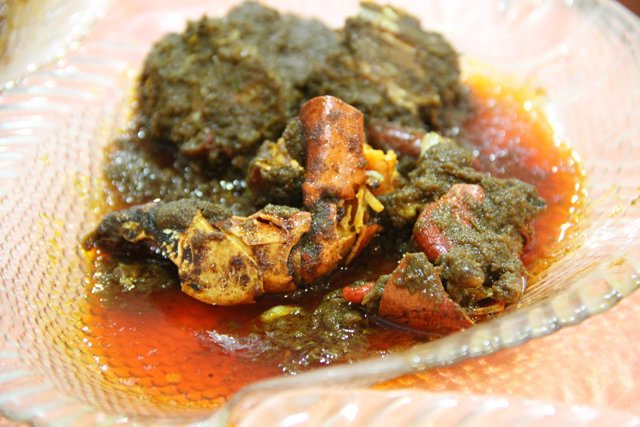 Medium Kankrajhai
At an unbelievable 90 rupees ($1.70), I couldn't believe how cheap the crab was.
And even at that price, it was probably my favorite dish of this Begnali meal. The dark sauce was a powerful blend of spices and there was a layer of red flavorful oil sitting on top. The crab itself was sweet and spicy.
Murgir Jhol
The classic chicken curry with a hard boiled egg was also delightful, simmered in a Bengali curry concoction of spices. It was reminiscent to Grandmother's Sri Lankan curry, a little sweeter and less coconut-ty.
Just like at the end of just about any Indian meal, we were served a type of mouth cleansing breath freshener – this time it was fennel seeds topped with sugar – very freshening!
Our feast at Bhojohori Manna was successful, and I came away completely stuffed, and with a newly found love affair with Bengali food.
Total bill came to just under 700 Indian rupees (about $13), and that included 5 dishes (seafood included), 4 helpings of rice, and water.
How to Get There: There are a number of Bhojohori Manna restaurants around Kolkata, but I went to the one near Esplanade. From the Esplanade Metro station, walk to the intersection (which happens to be one of the busiest and craziest intersections I've ever seen) and the restaurant is diagonally across. And keep looking, or ask someone, because the sign is blocked by countless street stalls.

View Migrationology Food Map in a larger map
Get exclusive updates
Enter your email and I'll send you the best travel food content.