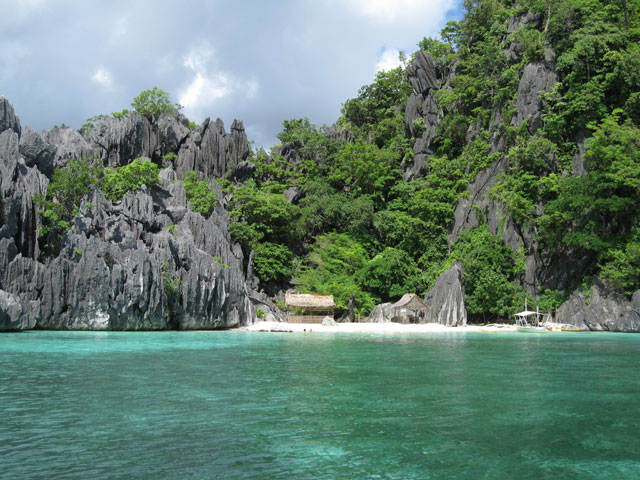 You're going to love backpacking Southeast Asia!
It's one of the most captivating and amusing areas of the world.
I've been slowly migrating around Southeast Asia now since 2009 and to be honest, I still haven't been to a fraction of the places I'd like to visit – there's still so much for me to explore… but, I have been to quite a few places and my aim of this ultimate guide is to offer you some personal travel advice and tips about where to go, what to see and what to eat!
After just over 3 years I have finally been to the 10 countries that make up Southeast Asia (11 if you count East Timor but I haven't been there).
There are a lot of links throughout this guide, if you see anything that looks interesting just click on the link for more information about it.
For each country I'll give a little introduction, then go over a few of the cities I've visited and enjoyed, and finally briefly mention a few places in that country where I'd like to go… but haven't yet.
Also, be sure to check out the videos that I've embedded into this guide. Alternatively, you can browse my video channel to watch country specific videos.
I hope this will be a great resource on your backpacking Southeast Asia trip of a lifetime! If you have any other advice or questions, please leave a comment at the bottom of this article!
1. Thailand
Visting Thailand is almost mandatory when it comes to backpacking through Southeast Asia – just about everyone comes through Thailand at least a few times. Recent statistics have shown that Thailand receives something like 19 million tourists annually (and rising each year).
With a busy airport, it's easy to catch a flight directly into Bangkok to begin your southeast Asia adventure – that's what I did in 2009 before visiting other countries in the region.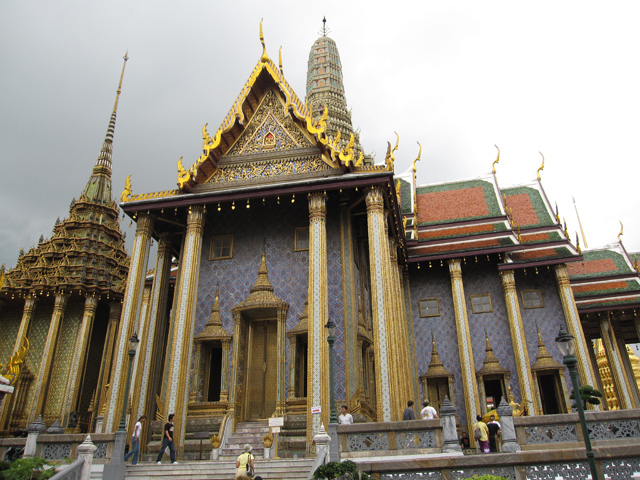 Bangkok
Spending time in the Big Mango (Bangkok) is a thrilling experience. Here are a few things to check out when you're in town:
I've spent over two years in and out of Bangkok now, it's a great hub for getting to other destinations around the country and around Asia
After teaching English for one year I've been able to leverage my savings and make enough money from a few online projects to survive and continue to slowly travel.
(Click here to watch the Dangerous Maeklong Train Market video on Youtube)
If you have some extra time in Bangkok I would highly recommend visiting Amphawa Floating Market which is one of the most popular local floating markets and the Maeklong Train Market (VIDEO Above), a truly fascinating market that takes places directly over the train tracks (and the train still runs).
Chiang Mai
After Bangkok, Chiang Mai is a destination located in northern central Thailand many choose to visit. It's known for its forest trekking, beautiful mountainous scenery, for all kinds of adventure sports and for the famous Thai elephants.
Krabi
While backpacking Southeast Asia, you'll be able to enjoy a wide range of different natural environments including mountains, forests, and some of the most beautiful beaches in the world.
Krabi in Southern Thailand is a gateway entrance to a number of beautiful islands and stunning beaches.
Sangkhlaburi
Sangkhlaburi (in Kanchanaburi): A beautiful relaxing town on the border of Burma with a scenic lake and just a perfect lazy environment
2 Festivals
Though there are many festivals in Thailand, here are 2 that you'll enjoy and it would be great if you were here during one of these events:
(Click here to watch Thai street food video on Youtube)
Delicious Thai Food
Even though there's tons of awesomely delicious food throughout ALL of Southeast Asia, I would have to say that Thai food is the best.
Now I may be a little biased, but when it comes to variety, vibrancy of flavors and overall cleanly conditions, Thailand takes gold.
I created the Eating Thai Food Guide to be the ultimate resource for hungry travelers in Thailand wanting to discover the next level of awesome Thai food. You don't want to miss the best Thai dishes!
Also, if you are vegetarian it can be difficult backpacking in Thailand, so after eating fully vegetarian for a month in Bangkok I launched the Vegetarian Thai Food Guide just for you!
Places I haven't been:
2. Cambodia
Cambodia is an anticipated destination mainly for the temples of Angkor Wat. Many backpackers choose to head straight from Bangkok to Angkor Wat.
Siem Reap – Angkor Wat
The big ticket for travelers visiting Cambodia (or even Southeast Asia altogether) are the famous temples of Angkor Wat – a truly remarkable attraction.
Get exclusive updates
Enter your email and I'll send you the best travel food content.
When I visited the temples, I took local transportation from Bangkok and chose to see the temples for just one day (you can also buy a 2 day ticket). It's not just a single temple, but Angkor Wat is a huge area with many ancient temples and ruins.
As far as the Siem Reap town goes, I wasn't much of a fan – tons of tourists and lots of Western restaurants. Backpacking Southeast Asia you should definitely see Angkor Wat but don't spend too much extra time in Siem Reap.
(Click here to watch Phnom Penh video on Youtube)
Phnom Penh
It's been a long time since I was last in Phnom Penh and I know some things have evolved in the city. I did write a few cultural observations about life in Phnom Penh and the video is the first city video I made!
Places I haven't been:
Southern Cambodia: The southern portion of Cambodia is beginning to gain a reputation as a great backpacking Southeast Asia destination for its lazy lifestyle and beautiful beaches. Check out Sihanoukville or Kep.
3. Laos
It seems that almost the entire country of Laos was colonized by relaxation – partly because the country is surrounded by bustling Southeast Asian countries like Vietnam and Thailand so it's a quiet oasis in the middle of booming industrialization.
If you are looking for scenic outdoors, hiking and or course relaxing in a hammock, Laos is a country you'll surely enjoy!
Vientiane
The capital and largest city in Laos is in reality a very low-key easy going city. Many would say there's not much to do, but when you're backpacking in Laos you don't want a long list of attractions to check off from your to-do list.
Situated on the Mekong River, Vientiane is a great spot for watching the sunset, eating Laotian food and hanging out.
Luang Prabang
Luang Prabang is the Chiang Mai of Laos – easy to navigate and a place you'll probably fall in love with while backpacking Southeast Asia.
It's beautiful, there are plenty of places to stay, there's a fantastic handicraft market and there are lots of nature related activities in the area.
(Click here to watch Wat Phou video on Youtube)
Champasak and Wat Phou
Peaceful even by Laos standards, Champasak is a quaint little town and the gateway to the famous temple of Wat Phou, located just 15 minutes away by bicycle.
(Click here to watch the 4000 Islands video on Youtube)
4000 Islands
Of the 4000 islands, there are 3 main popular islands to visit. You may want to check out all 3 and decide for your self which you prefer.
If you do enjoy the party atmosphere, Don Det is your island – think Khao San Road on an island.
If you prefer quiet relaxation, Don Khong and Don Khon are fantastic!
Places I haven't been:
4. Vietnam
Vietnam has so much to offer, and I have only been to a very small fraction of this exciting bustling country. I've heard the north is very different from the south, so while backpacking Southeast Asia it would be great to see both sides of Vietnam.
Despite hearing lots of stories of scams and rip-offs, I had a very enjoyable time visiting Vietnam and managed to escape all those stories (even fighting in the buffet line).
(Click here to watch the Hanoi street food video on Youtube)
Hanoi
While in Vietnam I spent the majority of my time (I only had 2 weeks) in the capital city of Hanoi. I highly enjoyed walking around, sitting at cafe's and taking things easy as the world of Hanoi was rushing in every direction.
Halong Bay
From Hanoi, it's a short distance to one of the most famous attractions in Vietnam: Halong Bay.
There are so many tour agencies that it can be a hassle to organize a tour of the scenic bay. I booked a boat tour from one of the hotels that I stayed at, and it was a fantastic experience.
Places I haven't been:
5. Myanmar (Burma)
Things are changing rapidly in Burma. I was in Yangon in 2012 and I had an incredible time, but unfortunately I didn't have enough time to explore any other parts of the country. Though I missed many places in Myanmar, I still had an incredible time just in Yangon!
Before you do anything, read this important Myanmar travel information.
(Click here to watch Yangon travel video on Youtube)
Yangon
Yangon is dirty, loud and busy, but if you look around and slow down you'll find an amazing amount of beauty and entertainment in the city.
I spent about 2 weeks in Yangon and had an incredible time walking around, eating, and chatting with extremely friendly locals.
Places I haven't been:
6. Singapore
Singapore is not the place to go if you are backpacking on a tight budget. While in most of Southeast Asia you'll be rejoicing about the prices, in Singapore you'll feel like you're back in Europe or the United States.
While backpacking Southeast Asia, some visit Singapore just for a few days as a city of transit or a place to fly in or out of. Tiger Airways is a great budget airline based out of Singapore and you may be able to find some cheap tickets.
I personally was in Singapore for three days. I did enjoy walking around, enjoying the clean streets and eating delicious Singaporean cuisine.
If you're looking for the tastiest marvels of Singaporean food, I Eat I Shoot I Post is your ultimate food resource.
7. Malaysia
There are two main sections of land that make up the country of Malaysia: The main peninsular section connected to Thailand, and a part of the giant island of Borneo (shared with Indonesia and Brunei).
I've been to both sides of the country and I have great things to say about Malaysia – it's not the cheapest place for backpacking in Southeast Asia, but there are lots of cool things to see, an interesting international culture, and truly magnificent Malayasian gastronomy.
(Click here to watch the Malaysian street food video on Youtube)
Kuala Lumpur
The international melting pot of cultures, cuisines and traditions is what truly fascinates me about Kuala Lumpur. It's an easy to navigate city with a smooth running network of public transportation and a modern infrastructure.
Home to the Petronas Towers, the Batu Caves, and a smorgasbord of Malay, Indian and Chinese food, Kuala Lumpur is a great place to spend a few days (or more) while backpacking Southeast Asia.
Melaka
Melaka is a great little historical town in southern Malaysia. I had a great time here.
Penang
So far, I've honestly only spent a total of about 3 days in Penang so I'm by no means very experienced. I basically remember all the good food and a few pretty cool attractions.
Robyn Eckhardt of Eating Asia, wrote this awesome guide about what you can do with 36 hours in Penang.
Langkawi
I spent just a few days on the northern Malaysian island of Langkawi. If you're backpacking Southeast Asia and looking for more island experiences, you may want to check out Langkawi Island.
Kota Kinabalu
On the Borneo side of Malaysia I went with the main intent to climb Mount Kinabalu (an hour from the Kota Kinabalu town), one of Southeast Asia's highest mountains.
Kota Kinabalu is a beautiful little town with an awesome seafront evening market and a greta atmosphere. I thoroughly enjoyed my time and wished I could have stayed longer to visit other parts of Sabah and Sarawak.
If you proceed on to the country of Brunei, check out this guide about how to get from Kota Kinabalu to Brunei in 1 day.
Places I haven't been:
8. Brunei
From Kota Kinabalu I took the ferry to neighboring Brunei, the third country represented on the island of Borneo. It was extremely interesting to visit the rarely traveled to city of Bandar Seri Begawan, even though I was only there for 1 day and 1 night.
(Click here to watch this Brunei video on Youtube)
If you are in Kota Kinabalu, here's how to get from Kota Kinabalu to Brunei.
9. Indonesia
It would take years and years to say you've traveled through all of Indonesia – there's more than 19,000 islands that make up the country!
The island of Bali is extremely famous on the backpacking Southeast Asia route, but I would encourage you to explore some other parts of the country as well.
I've been to 3 islands, and each one was beautiful in its own unique and fascinating way. From the people to the food to the intense beauty, you'll find so much to see and experience in Indonesia.
Sumatra – Medan, Lake Toba, Orangutans
From Kuala Lumpur I boarded an Air Asia budget flight to Medan, the capital city in central Sumatra. As soon as I landed I got that exciting  sensation, the same kind of positive feeling I get when I return to Africa.
I spent 9 days in Sumatra and barely scratched the surface of possibilities on this lush giant island.
Java – Jakarta, Yogyakarta, Mount Bromo
Java is the most populous island of Indonesia, home to the largest cities and a fascinating mixture of cultures.
I took a flight (again with Air Asia) from Medan to Jakarta, spent a few days in Jakarta, just one day in Surabaya, almost a week in Yogyakarta and then on to Mount Bromo.
Though some areas are quite touristy these days, Yogyakarta is an amazing city to visit with two incredible UNESCO World Heritage temples in the nearby vicinity.
Bali
Wrapping up my 1 month trip in Indonesia, I spent a few days on the island of Bali. Kuta is a place I didn't really care for, lots and lots of backpacking tourists and an over amount of partying (in my opinion).
Luckily, there are some amazing places on the island of Bali, like Lovina and Ubud.
When I was last in Bali, I wasn't really keeping accurate notes or photos, so I barely have any of my own information to share.
Check out the Travelfish Bali travel guide for lots of useful tips.
Places I haven't been:
Of course, in a country that has as many islands as Indonesi, there are so many places to go, but I'll just mention a few places that are on top of my list when I return to Indonesia.
10. Philippines
One country that is often overlooked by the majority of backpackers is the Philippines. Why? For one, as an island nation it's a little out of the way, and two, in the past the Philippines has not been known as the safest destination.
After spending two months in the Philippines, I'm here to tell you that it's one of the most beautiful countries in Southeast Asia. But again, just like Indonesia, I've only had the privilege of exploring a micro portion of the vast archipelago nation of the Philippines.
Luzon Island – Manila, Banaue
Luzon is the biggest and most populous island in the Philippines, home to the city of Manila as well as a lot of amazing attractions. To get to Manila I got a great deal on a flight with Tiger Airways from Singapore.
Despite Manila not having the greatest reputation, I genuinely had a fantastic time in the action packed city and really came to like love it. About 3/4 of my time in the Philippines, I was in Manila volunteering in Payatas with an organization known as Gawad Kalinga.
Banaue and Batad Rice Terraces: In the central northern part of the island of Luzon are some of the most incredible rice terraces I've ever witnessed in my life. Despite planning to be in Batad for just a few days, I ended staying in the region for about a week, hiking and enjoying the beauty.
Sagadais a small town located in the pine tree mountainous region of Luzon. Arriving to Sagada, the scenery made me feel like I had left the Philippines altogether. When backpacking Southeast Asia, I can't think of a better mountainous relaxing retreat than Sagada. The ancient hanging coffins were quite interesting, but I really loved hiking into the cave.
Palawan – Coron Island
Being a country made up of lots of islands, the Philippines is a beach lover's dream come true. One island beach destination that I was able to visit was Coron Island just off the larger Palawan Island.
It's one of the most beautiful places I've ever been.
Renting a boat, hopping from beach to beach, dining on fresh grilled fish and crab was an experience that left me feeling like millionaire for just $35.32.
One reason I love Southeast Asia so much is because you can literally have priceless experiences at affordable costs.
Places I haven't been:
Backpacking Southeast Asia

You've reached the end of this massive 5000 word backpacking Southeast Asia travel guide!
I hope the information in this guide (as well as all the links and videos) will give you some fresh ideas about where to go, what to see, what to eat, and just a preview taste of what to expect.
I am confident that because Southeast Asia is such an amazing part of the world, you'll have a fascinating trip wherever your journey takes you!
If you have anything to contribute about backpacking in Southeast Asia, PLEASE leave a comment below!
Get exclusive updates
Enter your email and I'll send you the best travel food content.