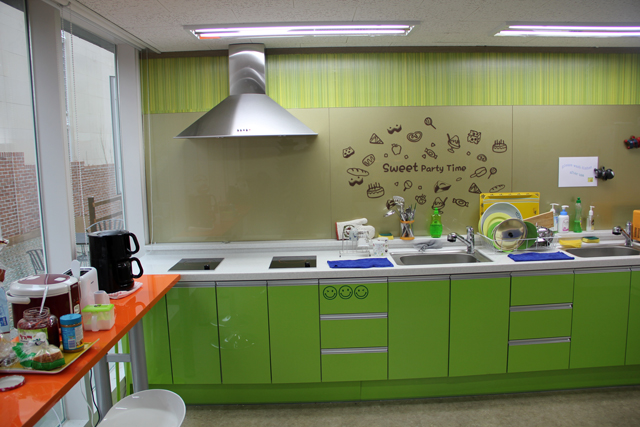 Note: Photo above is from Phil House – my favorite place I stayed while in Seoul!
One of the biggest concerns for travelers visiting any new city is figuring out a decent and safe place to sleep. While I don't normally do much planning, when I visited Seoul, South Korea, I did end up doing some research to check out the accommodation options.
Yes, there are lots of options for places to stay, but for a city as mega as Seoul, I didn't think there were all that many budget accommodation choices. On top of that, accommodation is not cheap in Seoul, so it is a tough city to visit if you're on a really tight budget.
So here are 3 places I stayed while I was in Seoul to give you some ideas!
1. Private Apartment
There are a few nifty websites these days that offer private short or even long term rentals. The benefits are that you get your own private condo or even house in a neighborhood, instead of having to be crammed up in a hotel room on a main street.
I booked a small condo with 9Flats.com located in the Itaewon neighborhood for the first part of my stay. It was just a 5 minutes walk from the subway station, and though on a side street, it was just a short distance from businesses, shopping, Korean food and international restaurants.
Price: About $60 per night for 2
2. Mini Private Room
Looking to pay hostel dorm bed prices, but with your own private room?
Get exclusive updates
Enter your email and I'll send you the best travel food content.
About the cheapest option for private room accommodation in Seoul is to book a mini room.
Here's a link to the mini room I stayed in for a few nights in Seoul.
It's even smaller than it looks in the photos! I could seriously touch 4 out of 6 of the walls at one time.
Staying in a Seoul mini room is great if your're not planning on spending much time in your room, but you just need a place to crash at night and keep your things.
Luckily, there are plenty of things to do in Seoul, so you can be out of you mini room as long as possible!
Great bonus was that the mini room included wifi and free access to steamed rice and kimchi throughout the day – giving you the option to save some money on meals. There's also a full kitchen if you would like to cook.
You can watch my video of staying in a mini room in Seoul.
Price: Range of prices, I paid about $28 for 2, but if you're traveling solo you can get a room for about $15 per night.
3. Guest House / Hostel
Like I just mentioned, guest houses and hostels seemed to me to be quite pricey in Seoul – but that's coming from a Southeast Asia perspective, probably from Europe or North America, the prices are still decent.
In Seoul you can expect to pay $12 – $20 for a decent dorm bed, $30 –  $50 for a single room, and $40 – $70 for a double room for 2.
I spent quite a lot of time researching for the best option on websites like Hostelworld and Hostelbookers, and finally settled on Phil House,* a newly opened modern hostel.
It was fantastic, great location, nice staff, and extremely clean.
I might add that one of the most incredible features was the fancy Korean toilet with the seat warmer and the powerful nozzle bidet – no need to squat at this hostel!
Price: Dorm bed – $11 per night, Double room – $50 per night
I stayed in Seoul for a total of 2.5 weeks and had a chance to experience all three forms of accommodation.
Booking your own private apartment is a great way to have some privacy and be able to cook your own meals. The mini room was the cheapest option, and while small, it was still adequate. Phil House was all-around a wonderful and very comfortable modern guest house.
Each of the 3 are good options depending on what you're looking for and how much you're willing to spend when you're in Seoul!
For more Seoul accommodation check out this link.
Get exclusive updates
Enter your email and I'll send you the best travel food content.