Growing up I have had the privilege to spend Christmas in a "whirled" of places.  The contrast could not be much more drastic from Hutchinson, Kansas to Tandala, Democratic Republic of Congo, or from Albertville, France, to Bangkok, Thailand.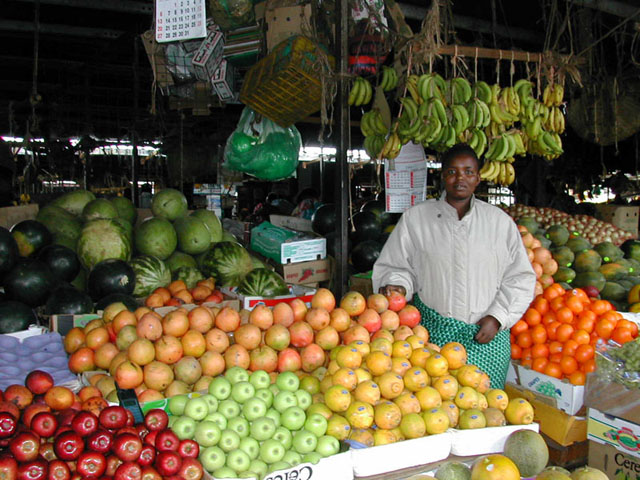 1.  Albertville, France- 1991
By far my whitest Christmas was spent in Albertville, situated at the base of the Alps in France.  I vaguely remember the white cap of flakes on our medium sized hill outdoors and sledding or sliding down it in any possible manner.  The Christmas was my families first away from the United States and I believe my Mother searched out the ingredients for some sort of Chinese feast for our family and a select few guests to enjoy.  Along with the Chinese food we also partook of French availabilities like cheese and the most delicious baked goods and maybe even something similar to the Laos style insanewich!
2.  Tandala, Democratic Republic of Congo- 1992-1995
The hype of materialism and the world of advertising was non existent in Tandala, Congo.  Where we lived in the heart of the jungle no one had the opulence of disposable income and to trump that, there were actually no stores to purchase anything.  Within my immediate family we gave non monetary gifts of items such as hand me downs, crafts, and my most momentous; an "I.O.U." for a toy truck.  Living in the tropics, close to the center of the globe, in conjunction with the humid jungle, the weather precisely on the 25th of December was by all means the hottest day of the year, and very noticeably so.  Amidst our steaming perspiration our indulgences included freshly butchered pig roasted in a "state of the art" barrel grill.  Other jungle greens and  fruits such as breadfruit, rose apples, varieties of bananas, feky feky (random green vegetable), and whatever seemed to be available would compliment the mighty pig.
3.  Honolulu, Hawaii, USA- 2004, 2006
As many of my relatives reside in Honolulu, and as the Asian culture dictates, Christmas time is an omnipresent buffet.  All things that are esculent around this time are indeed compulsory to be consumed (no resisting).  This includes a brilliant amalgamation of appetizing flavors.  Combination's of things like honey cured ham, Chinese roasted duck, prime rib, rack of lamb (with mint sauce), homemade crab cakes, rice, walnut and cranberry salads, kilos of poke (marinated raw fish), and my Grandmother's famous 7 layer Hawaiian jello.  The rites of passage on what should be eaten together is shattered in Hawaii.  Gastronomic medleys people can barely fantasize about are transformed into reality on Christmas day.
Get exclusive updates
Enter your email and I'll send you the best travel food content.
4.  Nairobi, Kenya- 1996-2004
Nairobi holds a large portion of my heart as I probably spent the most Christmas's in this particular city in East Africa.  One year we ventured into the Karura National Forest, eager to illegally (didn't know at the time) chop down our own Christmas tree!  We came home with a 13 footer that resembled the Tower of Pisa after a hurricane.  Though it was of evergreen decent, this weed had about 13 branches or 1 per foot.  On Christmas day in downtown Nairobi my family was able to assist in a program to give street kids haircuts, nail cuts, teeth brushes, brief medical check ups, and a Christmas meal to close.  Favorites to eat always included the famed Kenyan roasted goat or nyama choma!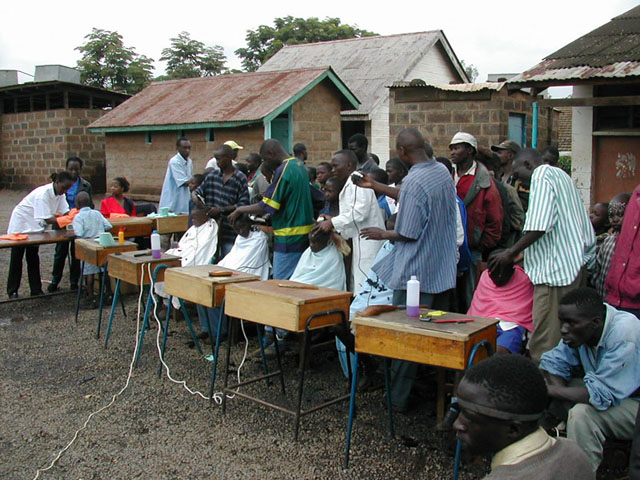 5.  Bangkok, Thailand- 2009
Inspired by a sticky rice (a variety of rice that is super sticky) shrine I inspected in Luang Prabang, Laos, I felt it mandatory to construct a sticky rice Christmas tree of my own on the 25th of December, 2009.  Since I live in Bangkok for the time being and I eat the best meal of my life consistently every night, I thought it might be appropriate on Christmas Day to also eat the best meal of my life…and that would be Thai food.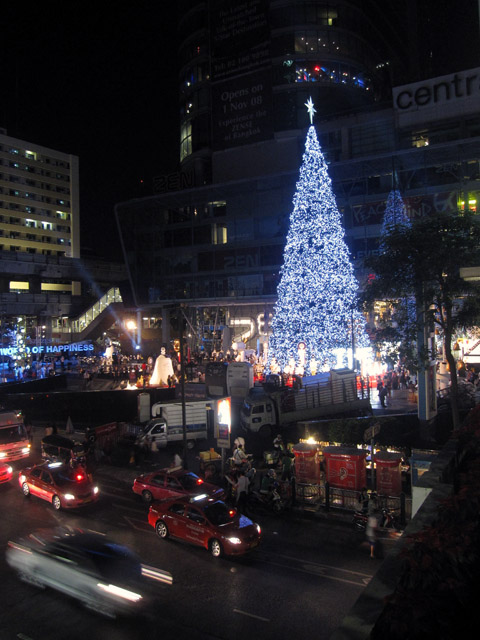 Of all the memories I have retained from celebrating this day every year in varying "whirled" environments, I have not forgotten my belief that the real reason behind the festivities is the birth of Jesus.  Everyone have a phenomenol Christmas in whatever city or location you may be in!
-Migration Mark
Get exclusive updates
Enter your email and I'll send you the best travel food content.