At times, Phnom Penh, Cambodia, can feel a bit hectic and maybe a little intimidating.
I thoroughly enjoyed my stay and while there learned various survival tactics in order to make visiting Phnom Penh slightly easier and more manageable.    Some of these survival tactics might even teach you a few lessons on how to be native in Cambodia.
In any way, have an awesome time in Phnom Penh; a city that I consider to have a great mixture of entertainment, delicacies, humor, and great folks.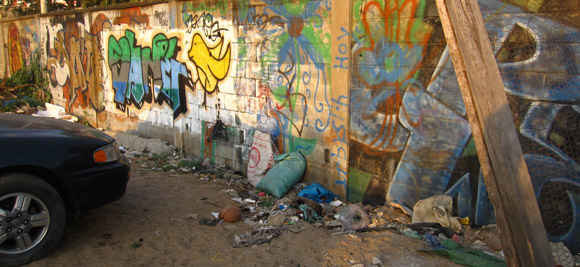 1.  Tune Out a Little
It is utterly unavoidable that all operators of all forms of motorized transportation will pursue you for a ride.  Motorcycles will pass, notice you are a foreigner, and then reverse in an attack to secure a job.  If you say "no" they will smile and ask again as if you didn't hear them, over and over.
Survival: If you don't want to eventually go slightly crazy, nod negatively with a friendly smile on your face continuously.
2.  Chat with Locals
Most locals in Phnom Penh are genuinely friendly and more than willing to converse.  Around the main tourist sector some of the touts have become a little dodgy but are still very friendly.
Survival: Avoid the tourist areas and chat or ask for advice from local Cambodians.  Many are awesome to talk to and speak English surprisingly well.
3.  Have Food to Give Away
There are many beggars in Phnom Penh who hold out their hands and request some form of monetary currency, US Dollars being the most widely begged.  I don't particularly always support the giving of money as it can be highly misused.  I however do support helping others if they really need a basic necessity.
Get exclusive updates
Enter your email and I'll send you the best travel food content.
Survival: Have some form of food or snacks (bananas, nuts, jackfruit) readily available to distribute to the hands that ask for the US Dollars.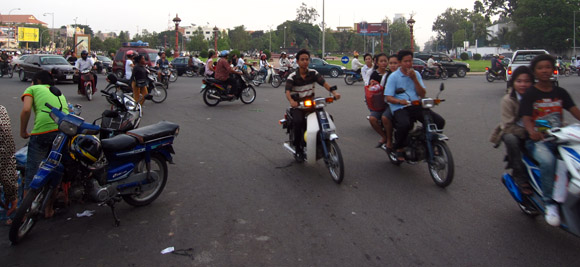 4.  Cross the Streets
At rush hour, there is an always present flow of steaming traffic with few traffic lights, leaving next to zero options to cross from side to side.  One night I failed my brilliant idea to cross the street on foot by sprinting and then merging myself into the traffic…didn't work.
Survival: A group is the best way to cross the street.  Stay huddled and move from one lane to the next (be in the middle).  If you are alone, slowly proceed one step at a time.  If someone is about to hit you, hold out your hand and always attempt to make eye contact.  Get across the street slowly and cautiously.
5.  Afternoon Coffee Break
With the French influence, coffee shops in Phnom Penh serving stout brews are abundant.  When you order an afternoon coffee, a complimentary pot of Chinese tea is also served to you (or 6 pots in my case).
Not a bad deal in my opinion.  Many coffee shops will also offer bread or a delicious dim sum Chinese steamed bun known as Banh Bao which is a bit of a comfort food for me.
Survival: To remain calm and collected amidst a backdrop of chaos, enjoy a quiet afternoon coffee and tea.  The combination's of caffeine will always result in positive effects.  I frequented a place right across the street from the Russian Market where many coffee houses await.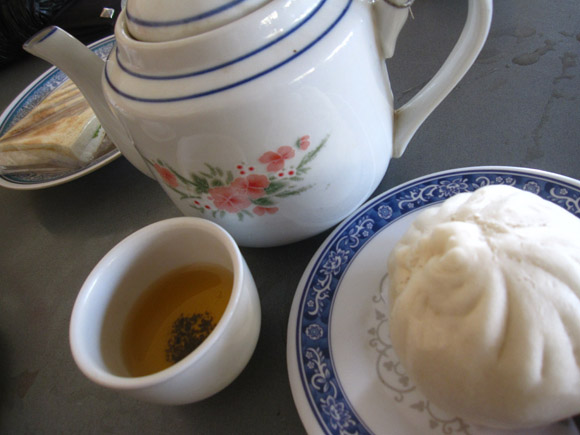 6.  Accommodation
My stay in Phnom Penh was indeed a pleasant one and fit well within my designated budget.  Around the Boeung Kak Lake, there are numerous guest houses offering satisfactory lodging options.  I stayed at the No Problem guest house at the end of Street 93.
Note: The lake is being developed and filled in with land and may not be around for too much longer.
Survival: Get a room with a friend or two on the Boeung Kak lake front for about $4 and you most likely can sustain living life for quite a sum of time.
7.  Food Partaking
I wasn't going to let this article slip away without the mention of a few of the delicacies that are imperative to stuff.  Local Cambodian food is exquisite and ranges from delicious ginger chicken to coconut fish curry and bitter melon pork.  The sauces and chili sauces accompanying are equally seductive.
Num Pang, or baguettes stuffed with pate, luncheon meat, vegetables, and sauces, are superb and resemble the Laos version of the sandwich.  The famous tamarind juice from the Kandal Market was unbelievable.
Survival: Try anything and everything especially if it looks good and the eatery is hopping with business.  Here are a few suggestions:
Num Pang (Baguette Sandwich)- Located all over the city.  For an awesome experience go to the Wat Phnom Garden round-a-bout near the Cambodian-Japanese Friendship Bridge.
Amok Trey– Stunning fish in a coconut blended curry.  Find this dish all over the city.
Cha Knyey– Braised chicken with pepper and loads of ginger.  I ate this dish in the Old Market (Psah Chas).
Nom Banhchok (Cambodia Noodles)-  Rice noodles with vegetable and awesome sauce and chilies.
Tamarind Juice: Get lost in Kandal Market and ask for it!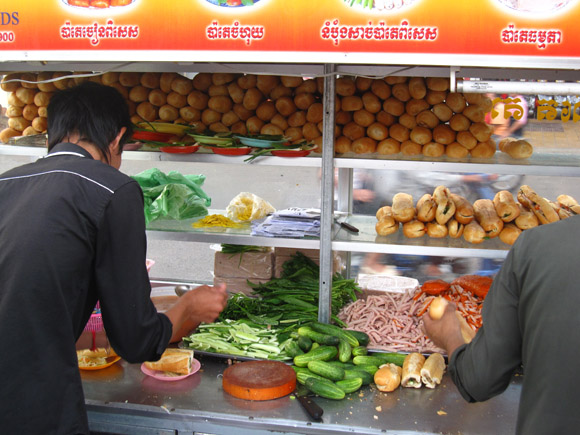 8.  Heat Stroke
The afternoon sun in Phnom Penh penetrates with a brute force.  It can dehydrate you and take advantage of you with haste.  Don't be a victim to the harsh rays.
Survival: water, hat, sunscreen, hydration, rest, coconut juice, tamarind juice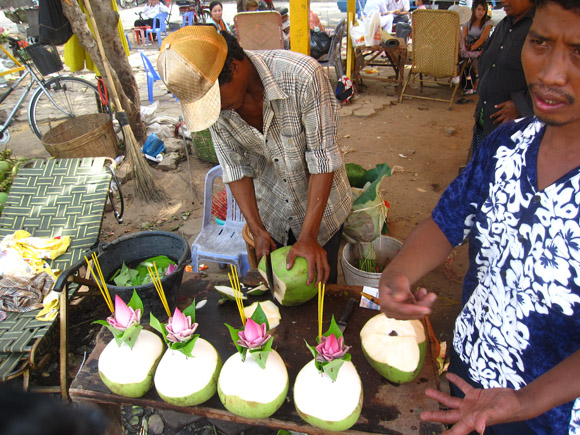 9.  Money Exchange
The US Dollar and Cambodian Riel (KHR) are interchangeable currencies in Cambodia.  However, on the street, the exchange rate is lower than what local banks and exchanges offer.
Street/Business:       $1=4000KHR
Bank or Exchange: $1=4155KHR to 4200KHR (at our visit it was 4190KHR)
Ultimate Survival (Note: figures are when I was in Phnom Penh in Jan 2010):
A standard meal on the street will cost $1 or 4000KHR
Instead of using $1, exchange it at a convenient exchanger for 4190KHR
If you exchange $20 you will get 83,800KHR which the banker will round up to 84,000KHR
You will have made 4000KHR, or more importantly a Khmer LUNCH
Do this everyday and it is the ultimate survival tactic for Phnom Penh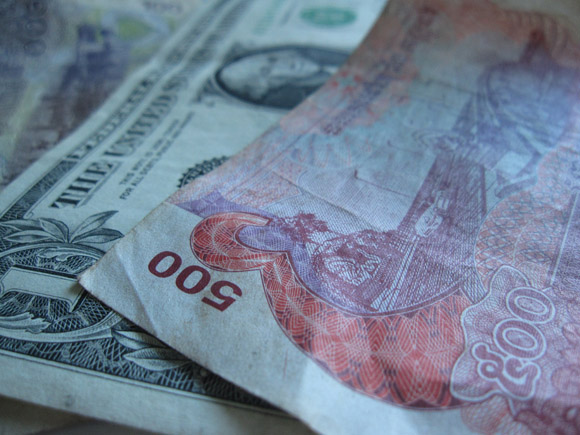 Migration Mark had a glorious time in Phnom Penh discovering awesome things and researching.
Get exclusive updates
Enter your email and I'll send you the best travel food content.