If your idea of street food is greasy hamburgers and limp hot dogs, you've obviously never encountered one of the fabulous gourmet food trucks around London where they serve cuisine, not junk food.
From divine breakfast benedicts to mouthwatering fresh fruit crepes, these inventive (foodie) entrepreneurs cook up dishes that can make even the most superior foodie jump for joy.
1. The Bowler
The delicious smells that waft from this astroturf covered van, nicknamed the "Lawn Ranger," should be enough to let you know this is no ordinary street food.
Specializing in meatballs "made with love," the founder, Jez, dishes out culinary concoctions to suit all kinds of tastes. Besides the spicy meatballs, he also makes balls out of fish, fresh vegetables and even chicken. He boasts that his balls all contain free range meats and fresh, seasonal veggies, no frozen and microwaved ingredients allowed!
What's more, you can top off your balls with a choice of delicate herbal drizzles, spicy sauces or hearty marinara. So when you're ready for some "Great British Balls," let your nose lead you to the Bowler!
Be bowled over with the latest news and menu additions at @TheBowlerUK
2. Street Kitchen
Feel like a fancy meal but don't want to get "sticker shock" when you see the bill?
Then search out the Street Kitchen's Airstream trailers around London where you can indulge in dishes like hot smoked salmon with roasted beetroots or slow roasted pork in an apple glaze with celeriac coleslaw for a fraction of what you'd pay in a sit-down restaurant…if you can find one that even has such delicious offerings.
Get exclusive updates
Enter your email and I'll send you the best travel food content.
The Street Kitchen's bistro-style dishes only use fresh, local ingredients so their menus changes constantly to match the mood of the season. This truck is the brainchild of famous Chefs (also on The Food Network) Mark Jankel and Jun Tanaka, so you know you will only be served the best. They are such purist that they only serve organic beer and all their packaging is biodegradable, making these street meals guilt-free as well as easy on the pocket book.
Follow News and Menu Additions of their Vintage Trailer at: @Streetkitchen
3. Crêperie Nicolas
This fleet of bright blue gourmet creperies can be spotted all over London, from private parties to street fairs, bringing a little taste of France to British festivities.
Their delicious sweet crêpes are made with the freshest ingredients and stuffed with seasonal fruits and melt-in-your-mouth chocolates and, of course, Nutella!
They also whip up some fine coffee drinks and galettes with ingredients like brie, crispy bacon and mushrooms, Yum! It's enough to make you hungry just reading the options!
4. Bean About Town
Imagine savoring a hand pulled espresso served from a remodeled Vintage Volkswagen bus and you'll get the idea of what to expect from this mobile gourmet coffee shop.
Serving Londoners from their carts near rail and tube stations, these trained baristas not only use only ethically sourced coffee beans, they put it in an environmentally sound container so you can ditch the cup with a clear conscious.
Be warned, though, once you have wrapped your lips around one of these fabulous coffee treats while waiting for your train in London, you may never be satisfied with Starbucks again!
Get your latest fix at: @beanabouttown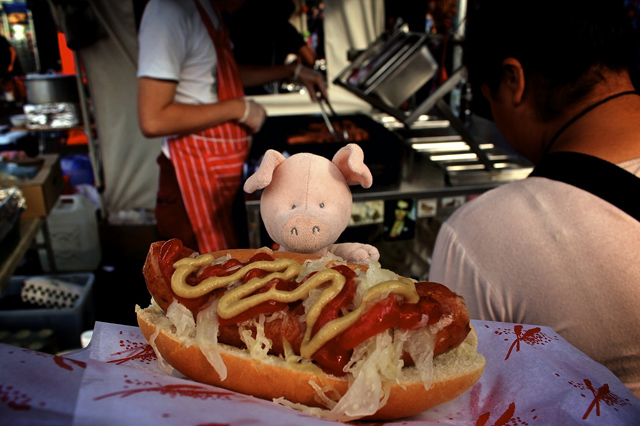 5. Big Apple Hot Dogs
Don't worry; all this gourmet food on the streets hasn't run off the hot dog vendors, but the high-end competition has made them bring their dawgs to a whole new level.
At the Big Apple Hot Dog truck by the Old Street Tube Station in London, you can satisfy your craving without compromising your foodie integrity with their organic, free-range, oak-smoked (even gluten free) wieners couched in a bakery fresh bun and topped with savory condiments.
To further tempt your backyard barbeque cravings, they also make a succulent spice-laden pork sausage with a just-right crispy casing that makes that satisfying snap as you bite through to the juicy filling that even has the mustard flavor worked into the recipe so you don't have to risk the inevitable yellow stains on your clothes.
Follow @BigAppleHotDogs to keep up with a little New York in London!
6. Churros Garcia
Even though this small family business has been serving Londoners treats on the streets for over 40 years, they are still winning awards as a favorite outdoor vendor even with all the new gourmet competition.
For those who haven't tried hot churros, they are kind of a cross between sopapillas, croissants and donuts and are best when served hot, of course. You can sprinkle brown sugar and cinnamon on them or drizzle the chocolate sauce over the top for a truly decadent snack.
Though they may technically be classified as peasant food, you'll be hard pressed to find anything as luscious in even the finest French bakery!
Author Bio: Lela is a foodie and world traveller who works as a part time copywriter for HostelBookers, where you can find chic hotels in London, close enough to get to any of these gourmets street trucks.
Get exclusive updates
Enter your email and I'll send you the best travel food content.