Seoul, South Korea, is a huge city with many things to do.
An immediate glance and you'll probably notice that shopping and dining are two of Seoul's most prominent features.
But after a little more research and wandering around, you'll notice that there's a rich history (Seoul has been a settlement for over 2,000 years), mountains and parks, countless neighborhoods and a fascinating Korean culture.
The list of top things to do in Seoul could go on and on, that's why I thought instead of trying to tackle every attraction the city has to offer, I'd just cover 25 of the most amazing things I think there are to do in this entertaining and delicious city!
Let's get started…
Are you looking a hotel in Seoul? My wife and I booked our accommodation here*.
1. Gyeongbukgung Palace
One of Seoul's most renowned historical attractions and most visited sites in the city is the Gyeongbukgung Palace. It was one of the main palaces during the Korean Joseon Dynasty, originally constructed at the very end of the 14th century. Unfortunately, the palace was destroyed during the Japanese invasion in the 1500's, but it was rebuilt and remodeled some 200 years ago.
The palace grounds are HUGE – it's like a park in and of itself. You can browse through all sorts of interesting building and also check out the gardens. My favorite place in the Gyeongbukgung Palace was the courtyard filled with all the clay pots used to store fermented chili pastes and kimchi!
Located in central Seoul, very close to touristy areas like Insadong, the palace is very easy to get to.
Entrance: 3,000 Won ($2.63)
Hours: 9 am – 6 pm from Wednesday – Monday, closed on Tuesdays
How to get there: Take the Subway to Gyeongbokgung Station and Exit #5
2. Bukchon Hanok Village
Bukchon Hanok Village in Seoul, located adjacent to the Gyeongbukgung Palace, is one of the most interesting things to do in Seoul. Exploring the streets and checking out the Korean traditional homes was a lot fun. Within the village there are also a few homes that have opened their doors as guest houses – not the cheapest, but looked like a great experience.
After getting a map at the tourist information center within the village, I followed the main walking route, stopping at a series of viewpoints. In the main areas of the village there are nice little restaurants and boutique shops. I had a great time walking around the antique village while sampling Korean touristy street food. It really reminded me of the Chengyang village in China.
Entrance: Free
Hours: I'd go anywhere from 10 am until about 6 pm
How to get there: You can either walk from the palace or take the subway to Anguk Staion and Exit #1 or #2 – then walk 5 minutes north.
3. Jogyesa Buddhist Temple
Located in the middle of Seoul's business high rise buildings district is the Jogyesa Korean Buddhist temple. It's almost always buzzing with locals and tourists streaming in and out. The temple is a Zen Buddhist temple, though it reminded me of the Gangaramaya Buddhist Temple in Colombo.
Undoubtedly, one of the coolest things about visiting the temple was the ancient trees on the compound – apparently over 500 years old. Strung up on the trees were banners and paper steamers made from brightly colored paper. It was a pretty cool site to see!
Entrance : Free
Hours: Open around the clock
How to get there: Get off the subway at Jonggak Station and Exit #2
4. Suwon's Hwaseong Fortress
About an hour and a half from Seoul, Suwon's Hwaseong Fortress makes a great day trip. Built in the 18th century, the Korean castle is now a UNESCO World Heritage site and one of South Korea's most important historical sites.
When I went, I saw nearly the entire fortess, and it took me about 2.5 hours once I was there. If you want to see the entire palace, the walls and gates and the fortress museum, it will likely take 3 – 4 hours to see everything. I'd highly recommend the Hwaseong Fortess if you have a day to spare on your trip to South Korea.
Entrance : 1,500 Won ($1.32) for palace and 1,000 Won ($0.88) for fortress walls, Package ticket is 3,500 Won ($3.07) and includes both options plus museum ticket
Hours: Open 9 am – 6 pm
How to Get There: You can actually take the Seoul Subway to Suwon station and Exit #5. Then you have to get in a local bus #11, #13, #36, or #39 and take it for about 10 minutes to the gates of the fortress.
5. War Memorial and Museum
I wasn't actually even planning to visit, but the War Memorial and Museum turned out to be one of the pretty cool things to do in Seoul. At the entrance there's a number of statues and memorials in remembrance of South Korea's biggest wars. Inside the building are exhibits of tactics and weapon displays.
What I enjoyed most was the outdoor section that showcases a bunch of tanks, planes, helicopters, and giant missiles. You can even climb in and check out a number of the vehicles.
Entrance : Free
Hours: 9 am – 6 pm and closed on Monday
How to get there: Get off the subway at Samgakji Station and Exit #12
6. N Seoul Tower
Central Seoul revolves around the N Seoul Tower that sits at the top of the Namsan mountain. It is a communications tower that is open as an observation and entertainment tower as well. Going to the top offers the opportunity to get one of the best overall views of the city of Seoul, somewhat like the Menara KL Tower.
Many people who go to the N Seoul Tower take a cable car up the to the peak of the mountain and pay to go up to the top of the tower. It has also become famous to go to the tower and lock a padlock from the fence as a symbol of love – one of the most romantic things to do in Seoul!
Get exclusive updates
Enter your email and I'll send you the best travel food content.
Entrance : 9,000 Won ($7.90)
Hours: 10 am – 10:30 pm
How to get there: Walk from Myeongdong Station (more info here)
7. Myeongdong Shopping
Shopaholics will rejoice when they head to Myeongdong – it's one of Seoul's busiest and most shopper insane areas of town.
From the latest Korean cosmetics and fahion to the brightest neon colored sneakers, there's all kinds of stores in this outdoor mall. Along with trendy expensive stuff, in the afternoon hours, street shopping stalls also set up shop. If shopping is not your thing, don't worry, there's a massive selection of restaurants, street food stalls, towering ice cream cones, and snacks everywhere you look.
As an area that swells to millions of shoppers and walkers daily, you'll have a good time even if you just want to people watch! If you love to shop, spending time browsing through Myeongdong will be one of your favorite things to do in Seoull!
Hours: Many of the businesses are open from 11 am – 10 pm but things are most busy in the later afternoon and evening
How to get there: Take the Subway to Myeongdong Station
8. Insadong
One of Seoul's most touristy areas of town is known as Insadong. If you're looking for Korean souvenirs to bring back, this is a great place, but kind of expensive place to buy things. There's also plenty of food options, like delicious mandu, and lots of Korean street food snacks.
Form Insadong, it's a breeze to walk to other places around Seoul such as the Gyeongbukgung Palace and the Bukchon Hanok village (mentioned above).
Tip: If you're looking for a good South Korean food restaurant, go back into one of the alleyways off of Insadong a little ways – the prices are cheaper.
Hours: Open 10 am – 6 pm or so
How to get there: Take the subway to Anguk Station and Exit #6
9. Namdaemun Market
Located in the central area of Seoul is one of the city's largest and oldest markets – the Namdaemun Market. This is Seoul in its most thrilling local flavor. There's a downstairs section where you can get all kinds of imported things, including imported liqueur and things like Skippy peanut butter and GNC supplements.
When I went in the middle of the day, the market was hopping with tons of people (as usual) and you could buy all kinds of local Korean made necessities – clothing, some foods, electronics and so on. I bought a few bags of toasted seaweed to eat with rice and kimchi.
Hours: Open almost around the clock, but go during daytime hours, closed on Sunday
How to get there: Take the subway to Hoehyeon Station and Exit #5
10. Dongdaemun
Yet another wild Seoul shopping destination, Dongdaemun is not really a single market, but rather an entire area that is dedicated to shopping. It's an entire commercial area where you can find just about everything imaginable for sale.
The thing about shopping in Seoul is that even though I'm not much of a shopper, there are still so many other things to do at shopping destinations besides shop. There's always lots of food and interesting things to observe.
Hours: Basically around the clock you'll be able to shop, including the night owl shopping center
How to get there: Get off the subway at Dongdaemun Station and Exit #8, #9
11. International Itaewon
One of the international melting pots of Seoul is Itaewon, some areas even look like Cairo. There are lots of international restaurants, stores, bars and clubs. If you're in the mood for a delicious shawarma, head on over to Itaewon where you'll have a nice selection.
Itaewon is also home to more Seoul street shopping that often includes fake designer goods. You can also shop at the main stores that offer more authentic products.
How to get there: Take the subway to Itaewon Station
12. Hongdae (Hongik University)
Another popular area of Seoul is near Hongik University, known as Hongdae for short. The area is a pleasant part of town that is great for walking, dining, and yes, shopping some more. The streets are lined with lots of stores and also a fabulous array of restaurants – some of them cheaper to cater to the students.
Hongdae also happens to be one of Seoul's biggest nightlife destinations. Some of the city's biggest bars and craziest nightclubs are located in the area. One of the fun things to do in Seoul is go to the monthly Hongdae Club Day on the last Friday of each month.
If you're looking for a good Korean barbecue restaurant, try out New Vally Restaurant in Hongdae.
How to get there: Take the subway to Hongik University station
13. Lotte Mart
I don't know about you, but one of my favorite things to do in any city is visit a supermarket to just walk around and see all the different things available for sale. I also love outdoor markets, but indoor supermarkets are also very interesting.
Going to Lotte Mart in Seoul has to be one of the coolest grocery stores in the world. There is lots of food and lots of food samples. I was tempted to drop a ton of cash, but had to hold back to stick to my budget. Any kind of Korean food goods are available at Seoul's Lotte Mart.
Hours: 9 am – midnight
How to Get There: There are a number of locations around Seoul
14. Lotte World
Lotte World is a magical Korean amusement park that is one of the biggest indoor parks in the world! They also have an outdoor section known as Magic Island. Step inside and you'll be transported into a world of thrilling rides and adventurous activities.
If you are looking for one of the most exciting things to do in Seoul, take a day to set loose and have fun at Lotte World!
Entrance: Check out their site for more information
Hours: 9:30 am – 10 pm Monday through Thursday, 9:30 am – 11 pm Friday through Sunday
How to get there: Get off the subway at Jamsil Station and there are lots of signs from there
15. Seoul Children's Park
I didn't know what to expect when I showed up at Seoul's Children's Park – and at first I wasn't all that thrilled. However, after walking around for a while, I realized it's a giant green park area with not just cool things for kids, but for just about everyone.
From amusement rides to playgrounds and even a free zoo, Children's Park is a great place to spend a lazy afternoon in Seoul. I got to see my first ever polar bear at the zoo within the park!
Phil House, the hotel where I stayed while in Seoul, is located just a 5 minute walk from Children's Park.
Entrance: Free
Hours: Open 5 am – 10 pm, but the zoo is only open 10 am – 5 pm
How to Get There: Take the Subway to Children's Park Station and Exit #1 or to Achasan Station and follow signs
16. Han River Walking / Riding
The Han River is one of Korea's largest, and it goes right through the center of Seoul. Along the banks of the river, throughout most of the city, is a lovely recreational area set aside for exercising and sports.
Away from the boisterous highway, you can rent a bicycle and slowly pedal up and down the river or go for a lengthy ride on the track that goes for over 40 kilometers. If biking is not your thing, you may want to check out a Seoul night tour for views of the river at night or even a Han river boat cruise.
Cost: 3,000 Won ($2.63) per hour to rent a bike
Hours: Day hours
17. Walk along the Cheonggyecheon Stream
In an effort to renew the greenness in a seemingly endless city sprawl in central Seoul, the Cheonggyecheon stream and recreational area was created. It's a long 8.4 kilometers where you can stroll along the stream and play in the outdoors – even though you're in the middle of Seoul.
When I was in Seoul, I used the Cheonggyecheon park a number of times just to get from place to place without having to walk along the traffic on the road.
Entrance: Free
Hours: Throughout the day
How to get there: You can walk there form a number of subway stations, it starts at City Hall Station
18. Hike in Seoul
One thing you'll notice when you arrive in Seoul is that there are lots of hikers – especially riding the subway. You'll know they are hikers as they are decked out in model perfect gore-tex jackets, North Face backpacks and mandatory trekking poles. Namsan is located right in the middle of Seoul, but there are also many other places to hike near the city.
Being a little too cold when I visited South Korea, I chickened out when it came to hiking on one of the beautiful mountains surrounding the city. However, if conditions would have been a little warmer, I would have loved to get out there hiking!
19. Gwangjang Market
Without doubt, if you like to eat, indulging in Korean street food at the Gwangjang Market will be one of the top things to do in Seoul. For myself, it was probably the coolest thing I did.
At first I though the market was just another market full of textiles, but finally reaching the avenue of street food turned the Gwangjang Market into an instant hit. There's a countless amount of street stalls to choose from, and they all serve wonderful Korean food. The vendors are even extremely nice, calling to you to eat at their stall.
Click here to watch a video of the Gwangjang Market.
Hours: Get there for lunch – 11 am – 4 pm and come hungry
How to Get There: Jongno 5-ga Station and Exit #8
20. Noryangjin Fish Market
A little more organized than the fish market in Dar Es Salaam, Seoul's Noryangjin Fisheries Market is a bedazzling display of the finest and freshest seafood. The seafood is kept so fresh in water that it sometimes looks like you're in a pet store instead of a food market – isn't that awesome!
Anyway, going to the fish market was one of the most memorable things to do in Seoul for myself, and I'd highly recommend it to anyone. After browsing the market, you can head to an upstairs restaurant and sit down for some fresh sashimi or seafood – just be warned that it can get rather expensive! Maybe next time I'll just make myself a fresh poke bowl.
Hours: Open 24 hours, but great to go here around lunch time hours
How to Get There: Take the subway to Noryangjin Station and Exit #1
21. Garak Wholesale Food Market
Garak Market is the biggest and craziest distribution wholesale food market in Seoul. Food comes to this market from around the entire country to supply the city. It's so big, that it actually just appears to be a bunch of warehouses. It's quite a bit more organized than a market like Samrong or Long Bien.
There's an entire section for fruit and an entire section dedicated just to the napa cabbage (cabbage used to make kimchi) – and they are humongous. I also found another really cool grocery store located at the Garak Market that was extremely busy but had some great food deals, if you're looking to cook your own food.
Hours: Open around the clock, but it's best to go between 6 pm – 9 pm for the auction
How to Get There: Get off the subway station at Garak Market Station, Exit #8 and walk for about 10 minutes to get to the entrance
22. Korean Street Food
One of the finest things to do in Seoul is to explore with your stomach. Just as eating street food is one of the best things to do in Bangkok, so it also is in Seoul!
Much of the street food in Seoul is made for on the go eaters who just have a few moments to grab a quick snack. The food is served piping hot and is pretty fresh, judging from everything I tried.
Just like Egyptian street food, there are lots of deep fried greasy treats and lots of meaty dishes as well. Try a tornado potato or a French fry encased hot dog.
Be sure to check out this Korean street food list of tastiest dishes!
23. Ice Cream Selections
Koreans really know how to make ice cream well, and not just fresh ice cream, but some of the best ice cream packages I've had are sold at convenience stores through Seoul. There are so many specialty delicious looking ice creams that it's worth it just to try all of them.
I was a big fan of Korean Melona bars from when I was a child eating them in Hawaii, and they were just as good as I had remembered!
24. Coffee at a Coffee Shop
There's an amazing amount of coffee shops in Seoul – I don't think I've ever seen as many coffee shops per block as in Seoul, apart from the streets of Hanoi. Hongdae is a good area to chill out and sit down at a trendy high tech coffee shop, and almost all have wi-fi.
The problem is, Korean coffee is not what I'd call good. It happens to be way watered down and not nearly strong enough, but the coffee shops are still nice to sit in. Unfortunately, if you're looking for better coffee in Seoul, you'll have to go to either the Coffee Bean and Tea Leaf or Starbucks.
25. Korean Barbecue
It all eventually comes down to the food… and Seoul, South Korea, is literally a heaven on earth for foodies. During my entire visit, I was enthralled and confused at the same time, debating what to eat, and trying to eat as much South Korean food as possible. It was a lot of fun.
Korean barbecue is a great way to socialize while eating the choicest of delicious meat. You sit at a table with your own personal grill in front of you, order plates of meat, grill it right before your nose, and devour the meat with all the Korean side dishes and often leaves of lettuce and garlic.
Korean barbecue is one of the tastiest things to eat in Seoul, South Korea!
Hope you enjoyed these 25 suggestions for what to do in Seoul.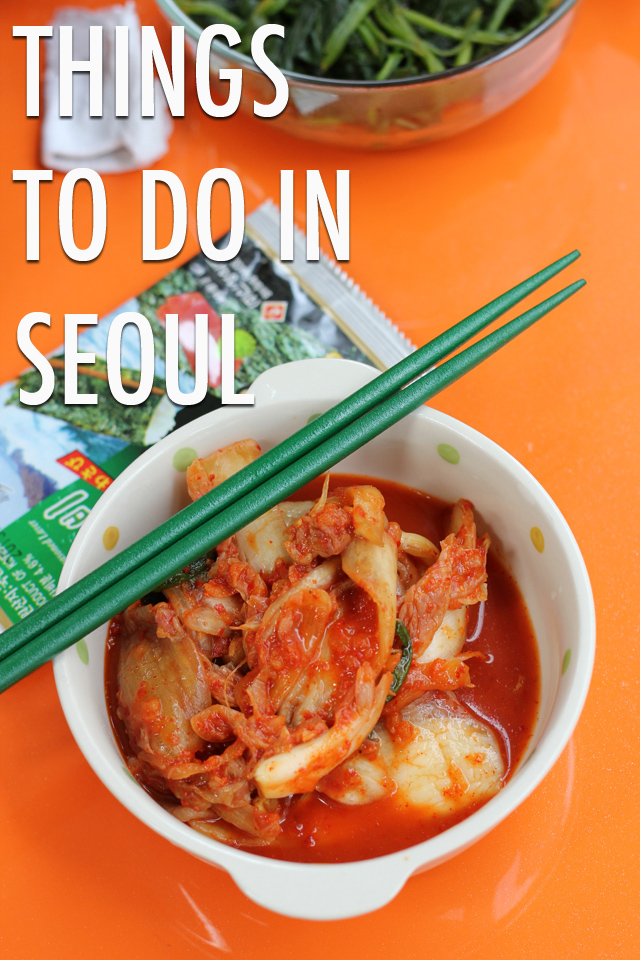 Are you looking for a great place to stay in Seoul?
I had a fantastic stay at Phil House, a modern guest house that's super clean, friendly, and located in a local neighborhood (but just a 15 minute subway ride form Seoul center). I would highly recommend it!
Please leave me a comment if you have anything else to add to the list!
Get exclusive updates
Enter your email and I'll send you the best travel food content.