It's crazy to think about how many meals you ate in an entire year.
Let's break it down.
We all have 365 days in a year, and many of us eat somewhere around 3 meals per day.
That's 1,095 meals in a year!
So out of the possibility of 1,095 meals, I went through my archives of food and chose 21 of the most epic meals I ate in 2013.
I've listed them in chronological order, beginning 2013 in India and ending in the United States.
What amazing meals did you eat this year?
1. Pork in Bamboo and Chili (Nagaland, India)
I had the chance to visit a friend in Nagaland and attend a wedding. Pork cooked with dry bamboo shoots and chilies is a favorite Nagaland food and it was outstanding!
2. Kolkata Street Food (India)
Kolkata was one of my favorite cities I visited this year, mainly due to their amazing street food scene.
Watch the Kolkata street food video.
3. Darjeeling Home-cooked (Darjeeling, India)
Singalila restaurant was the first place I ate as soon as I arrived in Darjeeling, and it was so good, I ate there 4 days in a row.
Watch the Darjeeling comfort food video.
4. Saag Mutton (India)
It may not look all that appealing, but this hunk of mutton simmered in spices, pureed spinach, and butter, from Bhape Da Hotel, was nothing short of heavenly.
Watch the Bhape da Hotel video.
5. Dal Bhat (Nepal)
This was my first meal after completing the Ghorepani Poon Hill Trek. Perhaps it was so good because I had just come off the mountain after 5 days!
Get exclusive updates
Enter your email and I'll send you the best travel food content.
6. Chinese Meal (Nepal)
Coming to Nepal from India, myself and especially my wife, was ready for some Chinese food. Man Tang Hong didn't disappoint.
7. Newari Food (Nepal)
Being in Kathmandu gave me the opportunity to sample Newari food and a dish called samay baji for the first time, and I absolutely loved it!
Watch theNewari food video.
8. P'Aor Tom Yum (Bangkok, Thailand)
Tom yum is a soup that ubiquitous with Thai cuisine, and at P'Aor they make tom yum noodles that stand out as incredible.
Watch the best tom yum in Bangkok video.
9. Paste (Bangkok, Thailand)
Paste is an upscale modern Thai restaurant, and they serve some incredibly complex and innovative Thai dishes.
Watch the Paste restaurant video.
10. Goong Ob Woon Sen (Bangkok, Thailand)
Glass noodles, jumbo prawns, a few herbs and spices, and a sauce, is all that makes up this wondrous Thai dish from Somsak Boo Op.
Watch the goong ob woon sen video.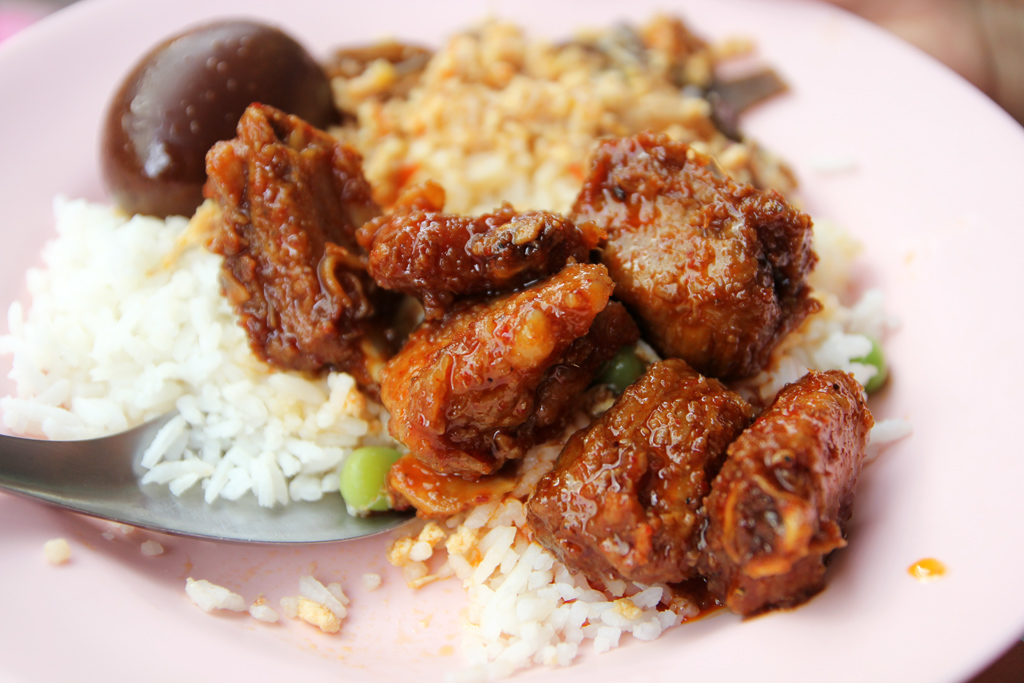 11. Khao Gaeng Jake Puey (Bangkok, Thailand)
This Thai curry stall sets up in Bangkok's Chinatown at around 4 pm, and there's always a crowd already waiting.
Watch the Thai curry video.
12. Isaan Food (Bangkok, Thailand)
For years, one of my favorite Isaan (northeastern Thai) restaurants has been Som Tam Boo Maa. It seems like they can't do anything wrong.
Watch the Thai Isaan food video.
13. 1.1 Kg Lobster (Hua Hin, Thailand)
We had no intention to eat lobster that night, but after seeing it, I couldn't resist. From Lung Ja Seafood restaurant.
Watch the 1.1 kg lobster video.
14. Biryani and Pilau (Zanzibar)
Two things that Zanzibar does extremely well is biryani and pilau, and both Lukmaan and Passing Show Hotel make stellar versions.
Watch the Lukmaan restaurant video.
15. Nyama Choma (Tanzania)
Every time I visit East Africa, nyama choma, or roasted goat meat is one of the first things I must eat.
Watch the nyama choma video.
16. Tanzanian Meal (Dar Es Salaam, Tanzania)
In a small kiosk in Dar Es Salaam is where I had the best Tanzanian meal I've ever had. It included beef pilau, a fried fish, spicy soup, beans, green vegetables, and a heap of tomato kachumbari on top.
Watch the Tanzanian food video.
17. Ethiopian Mahaberawi (Addis Ababa, Ethiopia)
I had dreamed of traveling to Ethiopia to eat, and 2013 was the year that it happened. This mahaberawi (a mixed meat platter) was so good I could hardly contain myself.
Watch the Ethiopian food video.
18. Kitfo (Addis Ababa, Ethiopia)
One of the most beloved Ethiopian foods is kitfo, raw minced beef mixed with butter and spices. It's mind blowingly delicious.
Video and article coming soon…
19. Seafood Feast (Mahachai, Thailand)
Mahachai, about 1 hour from central Bangkok, is known for seafood, and we enjoyed an excellent meal at Ran Ahan Pi.
20. Thai Muslim Meal (Bangkok, Thailand)
Yusup Pochana is the name of the restaurant, and they serve an array of Thai Halal food that will have you crying for joy.
Video coming…
21. Poke (Hawaii, USA)
Poke, or cubes of raw fish marinated in soy sauce, sesame oil, chilies, and sweet onions, is one of my favorite foods ever. The poke from Kahuku Superette is always good.
I'm incredibly thankful for the opportunity to enjoy so much delicious food, knowing that having a choice of food is a privilege not to be taken for granted.
Thank you for following Migrationology.com, and Happy New Year 2014!
Get exclusive updates
Enter your email and I'll send you the best travel food content.